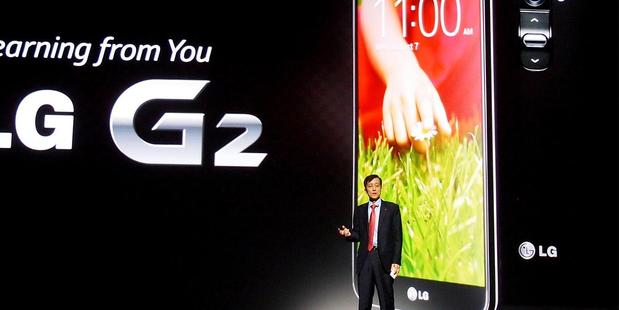 At a global event today, LG launched their latest flagship smartphone, the G2 packing some quirky and innovative twists.
According to Dr. Jong-seok Park, president and CEO of the LG Electronics Mobile Communications Company, the larger smartphones have become, the more difficult it is for most people to use their side buttons.
The G2's screen is also a whopper, measuring in at 5.2 inches. For those of us without massive bear claw hands, chores such as tweaking call volumes using a rear button should result in less of us subjecting delicate and costly smartphones to involuntary drop tests in the middle of a call.
There's plenty of other nifty features, and perhaps the simplest yet probably most versatile is what LG have branded KnockON. If the G2 is lying face up, you don't need to turn it over to access it's rear mounted power button. Just tap twice on the display and it'll power up. Although I wondered if this could see G2's accidentially being powered on or off, it looked pretty handy.
If like me you also use your smartphone to catch some tunage whilst waiting for the bus, the G2 may also be your smart phone cup of tea as it's capable of 24 bit/192kHz audio playback, which should in theory deliver rich fat sound.
Design-wise the G2's design looks a tad generic, but LG have added a few of their own refinements, starting with an Edge-to-Edge Display. LG attribute this to what their marketing folk call Dual Routing technology. In non-engineer speak, this reduces the G2's bezel to a wafer thin 2.6mm.
LG also talked up the G2's energy efficiency. One of the biggest power drains on a smartphone is its display and LG claim to have reduced the display's energy use by anything up to 26 per cent. When combined with a fairly ample 3,000mAh battery the G2 should be able to go the distance for a full day's work.
With cameras making up one of the most frequently compared features of a smartphone, LG appear to have taken a leaf from Nokia's book and added in an Optical Image Stabilizer to prevent blurring, when shooting in poorly lit environments. The 13MP image sensor and optical stabilisation combo could be pretty compelling.
If that was all there was to the G2, it'd be a pretty compelling option, however LG have also pushed the boat out by adding in several metric tonnes of other nifty features such as Answer Me which see's the G2 answering calls when the phone is raised to your ear. Then there's Plug & Pop which may sound like a breakfast cereal, but in reality see's the G2 Recommending options when an earphone or USB cable is connected. Text Link - is another a feature I've long had a hankering for. In essence, any info in a text message can be selected and saved in a memo or calendar or even searched on a map. Simple stuff, but oh so potentially useful.
Taking their cue from HTC, LG are also winning points with couch spuds as the G2 also be used as a remote control for AV gear and can learn from other remotes. Nicer still, the screen layout looks as if it can be customized too. This is one feature I'm definitely hanging out for.
Another nifty feature is "Guest Mode" which can also do double duty as a kids mode and see's the G2 only displaying pre-selected apps when the phone is accessed using a secondary unlock pattern. Last but by no means least is what LG call "Slide Aside" in which apps can be swiped out of the way for more efficient multi-tasking via a three-finger swipe.
The G2 will be rolled out globally over the next two months, starting with South Korea.
Tech specs:
RRP$: TBA
Processor: 2.26GHz QualcommÆ Snapdragon 800 featuring quad Krait CPU
Display: 5.2-inch Full HD IPS (1080 x 1920 pixels / 423 ppi)
Memory: 32GB / 16GB
RAM: 2GB LPDDR3 800MHz
Camera: Rear 13.0MP with OIS / Front 2.1MP
Battery: 3,000mAh
Operating System: Android Jelly Bean 4.2.2
Size: 138.5 x 70.9 x 8.9mm
Colors: Black/white