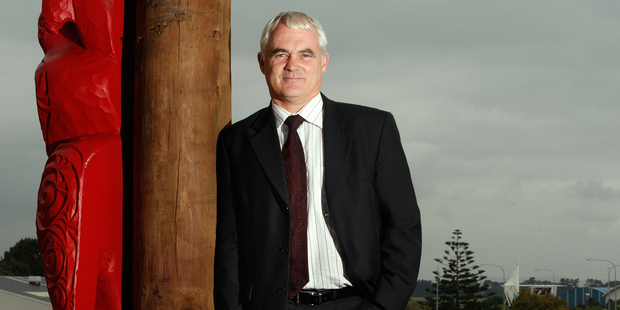 Simon Moutter says Telecom is positioning itself as the provider of the "24/7 anywhere anytime" data network.
In his second stint at the company, Moutter is relishing being the boss with the challenge of redefining the company and its business. "It's (going to be) an all-gigabyte world in a few years' time," he says. "It won't be about minutes and texts, it's going to be just about gigabytes and the services that use it.
"We're resetting the strategy around being the all data networked business, and that looks like a shift from infrastructure provider to services. We talk about the future-orientated competitive retailer of information services, entertainment and communication - so we're building the all data network that can do that and the investing in the services to run over the top of it.
Moutter cites the developing "world of machines" where data networks speak to each other (such as vending machines where sim cards send signals to drop off a delivery when they run out of diet coke) as changing the scope of the business market.
"It shifts us increasingly into the zone of competing as an IT company in a world that is increasingly globalising with Cloud-based IT.
You become the local end of an IT delivery model, and it takes you down the services path, that's why we bought Revera, the leading player in cloud services and hosting.
Telecom Digital Ventures has been launched to scope services and opportunities. "We only announced the formation of digital ventures two months ago. The time of internet- delivered video is here. We used to talk about it endlessly, pre 2008, but the network couldn't handle it, the access wasn't there, getting from the broadband modem to TV was a big a problem and (you were) up against a strong player - Sky."
Around the world it is getting more common that mainstream content is starting to be delivered predominantly by the internet. Netflix is over 30 per cent of the evening internet traffic in the US. "We are obviously looking at it and thinking there is enough evidence to say the time is right for us to be a player. There are huge chunks of the population who never watch TV. My teenage boys never watch TV; they watch everything on their computer."
Peter Cooper's Coliseum Sports Media recently outbid the pay-TV operator for the rights to broadcast premier soccer. Telecom Retail is is now offering its broadband customers a 15 per cent discount for a $149.50 season pass on Coliseum's PremierLeaguePass.com website.
Moutter says the ability to connect it all and make it work 24/7 anywhere any time is "absolutely the nexus of what we do."
"That is our unique position, so we are at the centre around these global trends around mobility, big data, apps and services, social; they all rely on our capability, and making it work easily doesn't mean we have to do everything in it. Lots will come from the over-the-top operators."
He says the challenge is to return the company to be a growing NZ business and re-earn the respect and trust of all New Zealanders.
"We are going to invest like mad to build a real future, an all data networking future to support New Zealand's competitive aspirations globally and a big impact on how families and individuals run their lives, 24/7. So we are up for it but we've got lots of work to do."


Simon Moutter Telecom
Simon Moutter singles out opening up access to valuable natural resources for economic development, as the one change he would make to improve New Zealand.
His best achievement in the past 12 months: Telecom's turnaround in market share trend (positive).
Moutter's top three business priorities for the next 12 months:
• Gain market share
• Reduce operating costs
• Modernise systems and processes.
The single biggest factor that would assist Telecom remain internationally competitive from NZ: Stable economic regulation.


Moutter says it's time to go after Google and co over tax
Telecom CEO Simon Moutter wants the Government to face the the challenge that global "weightless companies" like Google, Amazon and Apple provide to sustainability of the NZ tax base - and do something about it.
"If we are going to run global models where people can buy products from all over the world - where organisations pay no tax in a jurisdiction - it is going to have a substantial and long-lasting effect on the country's tax base," says Moutter. "It is time that the country addresses those issues.
"When a company like Apple can take $571 million and leave $2 million behind in tax, it is not on. That's transfer pricing at its best. I could string off a dozen other companies doing the same, Google won't be leaving anything behind, Facebook won't be, nor Amazon in New Zealand. It is time to address those models, level the playing fields.
"If we are going to allow the internet and our business to support these businesses, there needs to be a mechanism - it's not just in New Zealand but probably every country in world - that's my message."
He acknowledges tackling what is known in tax jargon as "base erosion and profit shifting (BEPS) - is a "big deal".
"It is hard for a government to think how is it going to do that. It's difficult. If we do nothing we will wake up in a few years' time and jeepers 'Where's the tax base gone?"'
Moutter's not concerned for his own business, but the businesses that want to sell advertising in New Zealand and find themselves up against Google; or retailers trying to sell retail items against Amazon and find themselves 15 per cent worse off instantly on GST , "let alone the rest of the contribution".
"If the world is moving to a global commercial models where these weightless businesses are driving everything out of tax havens like Ireland, it should be addressed, I am a strong supporter of the government getting on with it. Soon."
"They will be complying with tax laws, but tax laws as it stands were never designed to deal with these weightless businesses that are really just global order-takers like Amazon, just an interface between you and a manufacturer. They're not hands-on, they are taking the orders, it is very hard for NZ businesses to compete."
The genie is out of the bottle and needs reining in
That's how Moutter describes the need for the country to work with the government on the management of the internet services for legal purposes and censorship. "The tendency is to focus on the local communications providers, but actually, criminals operating below the law, know that if they use the global over- the-top operators they know they are not complying with local laws. That needs to nailed and captured.