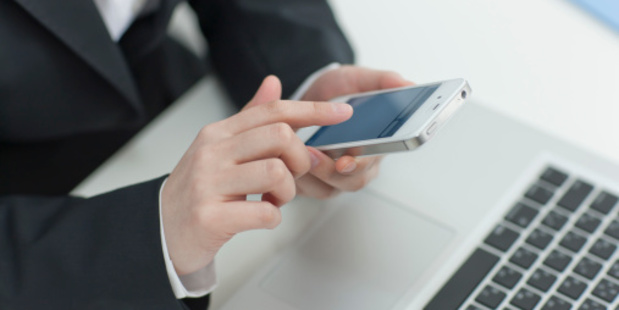 Are you wasting your money owning a smartphone?
I say an emphatic yes. Let me explain.
With most of my speaking and training engagements, I cover the topic of smartphones, tablets, mobility. I survey and question. I tabulate results. First of all, from a recent survey of my newsletter readership, almost 600 business people responded to my question of what phone they have. Nine out of ten had a smartphone.
These are the results (NZ and Australia combined). As you can see, iPhone and Android phones have the bulk of the business market at 81 per cent.
Blackberry: 3.19 per cent
iPhone: 41.84 per cent
Not a smartphone: 10.64 per cent
Other: 2.84 per cent
Smartphone Android: 38.83 per cent
Windows: 2.66 per cent
Next from over a year of conversations and surveys in many industries and job types, I can say with knowledge most business people are using their smartphones simply. Just for calls, texts, emails, internet browsing and basic camera.
However when it comes down to it the treasure of productivity, money and time savings can be laid not just there, but in the lap of the apps. That's what is great about the phone. It's the apps. For those that don't know this is applications, little programs you can download most are free or inexpensive.
While I would never claim to be very tech savvy (my husband literally has hundreds of apps, my iPhone screen is barren comparatively), I thought you might be interested in how I used my smartphone over the past three weeks while on a business trip to the US. Do you use your phone to answer similar needs?
Viber (free) to telephone and send/ receive pictures to my husband in Scandinavia (Steve's on a biking trip); the kids at home
Skype free computer calls, low cost phone and mobile calls - to telephone clients.
My fitness pal - to find out the calories in meals from several restaurants and try to keep a mental track of calories consumed so as not to go too overboard
Maps with me free maps which use your phones' GPS rather than mobile bandwidth. I used it to navigate and find my way around Chicago. You download countries (or states).
Camera, video. Aside from the normal scenery/people shots. I took screen shots of presentations I participated in. Testimonals (live) of my presentation in Chicago. Photos of maps / directions. Photos of things I needed to remember.
Audio Overdrive this is a free audio book player you download to listen to audiobooks you take out of the library. Before I left Auckland I borrowed a few online from the Auckland library.
Airnz mpass free travel app from AirNZ. It keeps all your flight details. Use it to scan instead of the eticket.
Tripit Free travel app. The rest of my reservations and flights I keep in Tripit. You can allow it to read your email and pick up your travel or alternatively and what I d9o, when you receive by email an itinerary or confirmation you can forward it to trips@tripit.com and it will automatically put it into your account. Updates and changes are automatically loaded.
Camcard an inexpensive card reader ($4.00). The 50 plus business cards I was handed were scanned during down time at night. The entire list from the phone I then emailed to myself to add into my Access database (there are other business card readers that are free but the info is trapped on your phone).
Facebook updates and photos to keep friends and family posted with interesting items while abroad
Google calendar because I am not on a networked work server, I have migrated all my appointments, engagements to Google calendar where I can access it from any device and anywhere instead of being tied to my laptop. By the way the new Office 365 gives you this capacity too. I haven't migrated yet.
Gmail Again like Google Calendar, not having my phone linked directly to Outlook, we map my company emails to Gmail so it picks up EVERYTHING. Again access to all the business correspondence 24/7 from any device, anywhere.
Chrome I favour this web browser over Safari for searching because you can go incognito (not have your searching detected) but more importantly you can type your search directly in the browser instead of having the side Google search box.
Alarm clock on the phone instead of carrying extra weight.
Weather to check on what to bring, what to wear
Dropbox free file sharing. Very, very useful. I used it as backups for presentations. To allow different groups to access and download the different videos I used for their presentations. I stored a lot of files I thought I might need while away that was on the main office computer. I also kept copies of all flight itineraries, passport, tickets etc. for the just in case.
NZ Herald, BBC News, CNN to keep abreast of what was happening at home and abroad.


Please, I'm sure everyone would like to hear your two cents worth of how you are using your smartphone for work and travel. Do comment!
Debbie Mayo-Smith is calling all ladies. She has five sets of two passes to the Ultimate Women's Expo July 27th and 28th. Enter to win a set of passes from Debbie. You'll be inspired by speakers, workshops on productivity, nutrition, natural medicine and the season's best in fashion! Indulge in lots of samples. North Shore Events Centre, 10am to 5pm, July 27th & 28th.
For more details, go to www.womensexpo.co.nz. One set of passes to be one every three days
Written by Debbie Mayo-Smith, One of Australasia's most in-demand speakers, trainers and bestselling authors. For more tips and business ideas sign up for her monthly newsletter.