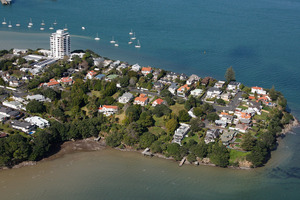 A resource consent bid for a private helipad on the estate of the wealthy Spencer family on Stanley Pt has been refused by Auckland Council hearings commissioners, who say it would disturb neighbours' enjoyment of living in a pleasant spot.
The landing area was sought to serve the secluded 1.54ha property, which faces Ngataringa Bay.
A consent would have allowed up to 500 helicopter movements a year on a flight path over 20m of the property and the bay.
In a reserved decision after a hearing last month, the commissioners said the of 135 submissions heard, only six supported the application by Tokoeka Properties.
Objections included noise and effects on privacy and 70 of them were from the immediate neighbourhood.
A number of submitters contended that the matter came down to a weighting of rights - the right of one resident to spoil the enjoyment of many versus the right of the local community not to have their environment spoiled.
The applicant's lawyer, David Kirkpatrick, said the application should be determined on the actual and potential effects.
Noise experts said the Eurocopter AS350 B3 would comply with the district plan requirement for noise at the boundaries of objecting properties, which would not be for more than five minutes on any day.
However, the commissioners said the helicopter would be heard across Stanley Pt.
The district plan's zoning was aimed at protecting the area's local character and amenity.
Tokoeka Properties had no comment on the decision.
The company lists one of its two directors as Berridge Spencer, director of Man o' War Vineyard on Waiheke Island and managing director of Spencer Family Group. His grandfather Berridge snr bought property on the point in the 1930s.