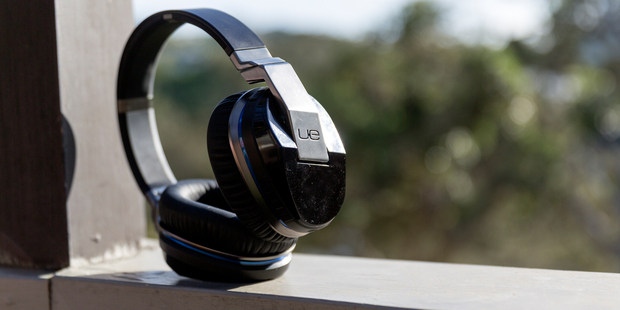 The biggest nuisance with electronics just has to be all the cables that are required. Even losing just the one, the audio cable for sound, is great.
Wireless Bluetooth audio devices let you do that, but up until now, the trade-off has been often has indifferent sound quality.
Logitech has aimed to fix this with a premium Bluetooth headset, the UE 9000. The two letters stand for "Ultimate Ears" which doesn't perhaps work all that well to draw attention to the good sound the pair that I tried out produce.
The UE 9000 headphones are closed over-ear devices, with stylish design and very good quality overall - so they should provide, considering the $599 retail price.
While the price is on the high side, Logitech has packed a good deal of stuff into the headphones. There's noise cancellation that works fairly well, a built-in amplifier that boosts bass (sometimes a little too much) and a replaceable battery too.
They are aimed at Apple iDevices and connected to an iPhone 5, the sound was very good over Bluetooth and a bit better over the included cable that gives you a microphone for phone calls as well as playback controls.
The headphones don't need to a cable to be used with a phone however. There are two microphones on the headphones, plus controls for volume and changing tracks, plus a mute button for the music.
Overall, sound quality from the UE 9000 set is very good. Punchy bass, a great deal of detail and definition make listening to music with the UE 9000s a pleasure. Classical music isn't the best choice for these cans, but even that sounds acceptable.
If you use a Mac laptop, wireless audio quality improves a fair bit (see below for an explanation) too. The difference between wireless and analogue sound quality isn't that marked with a good audio device and lossless sound files; these are the first Bluetooth headphones I've come across that I can recommend on the basis of music quality and not just wireless convenience.
The earphones lasted a long time on each charge - ten hours on wireless and twenty hours with the cable as Logitech promises seems reasonable and it's certainly longer than my ears would last. A fifteen metre reach as promised by Logitech was too optimistic though; nine to ten metres is more realistic.
On the negative side, the headphones can be a bit heavy and hot in the summer but that's a fairly minor complaint.
Shop around though if you're interested in the UE 9000s: some stores advertise them for under $500.
Rating: 4.5/5
Curing Bluetooth aches
During the review period, I noticed that Bluetooth can be a bit hit and miss as a technology. Some devices would work instantly with the Logitech players, others pretended to connect but didn't.
It turned out that some Bluetooth implementations can only pair with a certain number of devices, and silently refuse to add any more when the limit is reached. The fix, which isn't very obvious as there was no error message, is to remove previously paired Bluetooth devices.
Some computers can't cope with having Bluetooth keyboard and mouse connected at the same time as they try to stream audio wirelessly.
How far a Bluetooth device will reach varies from device to device. Bluetooth radios operate in the same busy frequency 2.4GHz band as heaps of consumer devices. They're susceptible to interference from microwaves, Wi-Fi base stations, cordless phones, all sorts of things, so you may have to switch some stuff off or move devices around for best reception.
An iPhone 5 could connect to the UE 9000s much further away than a Macbook Pro; a friend's HTC Android phone needed to be really close to the UE 9000 to work, until we discovered that turning the handset around made it reach much further.
As an aside, it's easy to forget that you have Bluetooth audio gear active with your phone. This creates some potentially awkward moments when you call people and can't hear them because the audio is routed to your Bluetooth headphones, but they can hear you. The same goes for Bluetooth speakers if you forget they're paired to your laptop for instance and the volume's turned up LOUD.
Audio quality over Bluetooth is another variable factor. For best results, use newer devices that support Bluetooth versions 3 and 4, but there are other things you can do to improve sound quality.
Logitech suggested that you turn off audio enhancements like Beats Audio and Dolby SRS to make the sound clearer and of course, use high-quality sound files. Look for loss-less audio formats with acronyms such as ALAC, FLAC, and WAV and make sure compressed music files such as MP3s are recorded at higher bit rates (the amount of data being transmitted per second) than 128 kilobit per second.
Also, avoid using features such as ReplayGain and Sound Check that smooth out volume differences between music tracks.
Another Logitech suggestion for better sound is to use devices that support the APT-X codec instead of the standard SBC one. This is a piece technology that compresses and decompresses the digital music stream from your device it is an important piece in the audio transmission chain.
The UE9000 headset works with APT-X and I had an HTC One X that also comes with the codec to test with and I can attest that it improves music quality noticeably, making it far clearer especially in the higher registers.
Unfortunately, APT-X isn't found everywhere. Apart from Logitech and HTC, some Samsung devices like the Galaxy S4 and S4 phones use APT-X and Nokia. Apple's iPhones, iPads and iPods don't, but late model Macbooks do.
If all else fails, the easiest fix to get good audio is to abandon Bluetooth and use the 3.5mm audio out connector on your device and cable for playback.