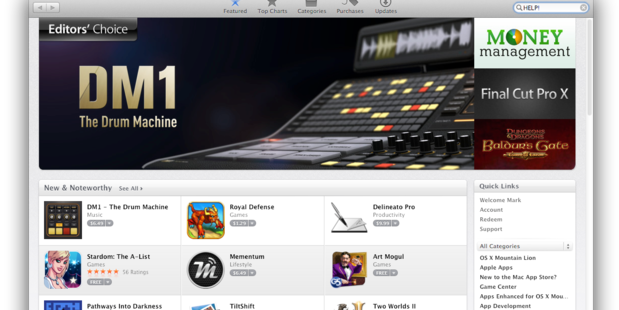 Since I have been helping train over 1000 people how to use iDevices, it might be helpful to explain what Apps are. They used to be called Programs, and Apps is short for Applications. The app situation seems to lead to amazing confusions with some people, so hear I will attempt to unconfusalate (if only that was a word).
Contrary to some misinformation, the iPad and iPhone (iDevices) do actually run a subset of Mac Operating System 10 (aka Mac OS X) that runs on Macs. I say this as I have even heard sales people assuring prospective iDevice buyers 'Don't worry, it's not running Mac OS X, it's a completely different system.' This is actually sales-speak shorthand for 'don't worry about all that anti-Mac fear we have been instilling into you all these years so you'll buy PCs that gives us a way higher profit margin, don't be scared of this iPhone/iPad' as we want you to get it, and especially we want to get some accessories for it because, like Macs, we make bugger-all margin from them but it's a high visibility product'.
However, it's not true. iOS for iDevices is a subset of OS X and runs a lot of, albeit less of, the same code. But since the iDevices have less capacity and are controlled via a touch interface, and the Mac still uses remote input (ie, trackpad/mouse) the interface part of iOS is fundamentally different to Mac OS.
Confusingly, perhaps, you need to buy or get apps for the Mac that are coded to use the mouse/trackpad interface, and separate-but-equivalent apps for the iDevices that are coded for their touch interfaces. There are therefore many Mac apps with iDevice equivalents, and vice versa, but also many apps for one or the other platform only.
The Mac Apps are only available in the Mac App store on your Mac, or from websites of software vendors and/or the developers themselves. To find those kinds of sites sites, I usually search like this, with a 'search string': 'mac app download *__' (name of, or type of, software). Better is a search like 'best mac app download weather', as an example.
The Mac App Store was introduced to the Applications folder from Mac OS 10.6x Snow Leopard and aliased to the OS X Dock, so it will appear in the Dock of versions Mac OS X 10.6x (Snow Leopard), 10.7x Lion and 10.8x Mountain Lion as a white A in a round blue field. This new app roughly coincided with Apple dropping Optical Drives in Macs. The Mac App Store will only work when you are online, since it's an online shop full of apps that pass Apple's strict User Interface and other guidelines.
In the App Store which, by the way, also has many very cheap and free apps as well as expensive ones, not to mention occasional discounts, I simply go through the categories or type a search when I need something. The categories are in a right-side menu in the App Store (which loads Apple's online store) or click the Categories button along the top. There are 21 categories, starting Business, Developer Tools, Education ... down to the all-important Weather. There are also top buttons for Top Charts (Top Paid, Top Free, Top Grossing - click 'See All >' to see the full lists) or just type something useful in the right-top search bar and go ahuntin'.
As noted in the intro, iOS is Apple's mobile version of the OS X operating system. Therefore, Mac Apps you buy for your Mac in the Mac App Store, from websites or even on old school CDs/DVDs will not run on iDevices. In fact, you can't even begin to load them onto iDevices as there is no process for doing so.
iOS apps are available two ways: on iDevices in the App Store on the iDevice, or rather confusingly, in the iTunes on your Mac or PC under Apps. Apps bought for iDevices in the iTunes App Store on computers (and NOT those bought in the Mac App Store) will download into the Mac, but into an iTunes' library. They will only load onto your iDevice (and never, ever onto your Mac, where they can do nothing) next time you sync. But they will remain on your Mac as backups for your iDevice.
You have to download apps like Pages, GarageBand, Numbers, Keynote, iMovie etc separately for each category of device. One is for the Mac category (Mac mini/Pro/MacBook Pro/MacBook Air/iMac). The other is for iDevices running iOS: iPhone/iPad/iPod touch. You must use either the direct method of the App Store on the iDevice, or the secondary method of via the App portion of the iTunes Store on your Mac or PC (as long as it has iTunes on it).
Just to further confuse the issue, on iDevices, there are three kinds of apps: there are iPhone apps that cannot be scaled up to run at full resolution on the iPad screen, iPad apps that cannot be scaled down to the iPhone screen at all, and Universal apps (usually marked with a '+' in the App Stores, ie 1Password+) that work on both as they scale to fit. However, there are no 'Über Universal Apps' that can run on all iDevices and Macs.
iPad apps marked as iPad apps cannot be used (at all) on iPhones and will not install on iPhones or the iPod touch. iPhone apps, though, can be installed on iPads. Here they will either run at iPhone size, looking sharp, or 'pixel-doubled' to look a bit jagged and ugly, but at least bigger.
Universal Apps scale beautifully to fit the screen on any iDevice.
I hope this leaves you unconfusalated.