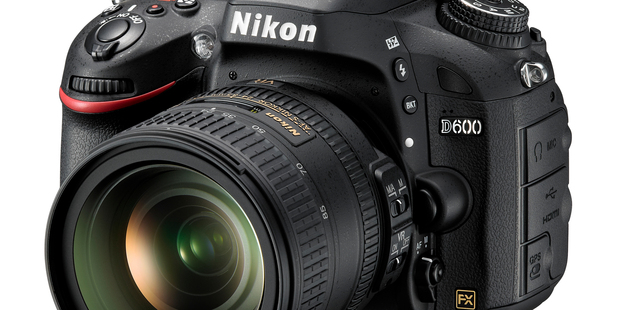 Much like film used to be, digital cameras follow the rule of thumb that the larger sensor they have, the better the image quality. The sensor is the device inside the camera that captures light and through cleverly thought-out electronics, translates it to digital signals that become the images we see.
Large-sensor digital ones have been very expensive and aimed at pro photographers with very deep pockets however but they are now becoming cheaper and within reach of enthusiasts' budgets too.
The Nikon D600, and Sony's Alpha 99 and the RX-1 have sensors that measure 24 by 36mm, or the same as 135 size film which was popular in mass-market single-lens reflex cameras or SLRs before the world went digital. It's actually the same sensor, made by Sony, but Nikon is driving it with its own electronics.
Compared to APS-C size sensors with sizes like 23.5 by 15.6 mm in cheaper cameras, the full-frame ones are a fair bit larger meaning the cameras can't be as small and light.
The payback for the extra heft though is remarkably good image quality with stunningly good colours and dynamic range.
My first few shots with the full-frame showed that you really need to pay attention to where the focus actually goes compared to APS-C cameras. With the large sensor, the depth of focus field or area of sharpness can be razor thin at large apertures. As a result, there's less leeway when it comes to focusing and it's easy to accidentally blur the areas you want to be sharp.
Once you get used to a shallow of field, you can use it to great effect, blurring out unimportant areas of an image while concentrating on what you're interested in.
Cropping in on the large image from full-frame cameras without the quality suffering means you can worry less about composing a picture and just enlarge the parts of it that you like.
Likewise, the large sensors in all three cameras handle tricky light really well. Smaller sensors often have difficulty in New Zealand's harsh sunlight but the Nikon and Sony cameras handled my summer shooting with aplomb.
Taking pictures after dark is another strong suit of the three, as you can increase the sensitivity of the sensors to some amazing heights. Whereas normally pictures taken with an APS-C sensor camera would look grainy at ISO 1600 or 3200, I was happy to let the three go to ISO 6400 and even 12800 and still get really good pictures.
Another novelty was lenses focal length being what they said they are without awkward 1.5 or 1.6 multipliers. A 50mm lens is just that and not a 75mm or 80mm as it would be on an APS-C sensor camera.
When it comes to lenses though, there is some bad news. The good ones are still really expensive and keep their value. And, you will need good ones with full-frame cameras so make sure you factor that in before buying one.
My camera use is take pictures to go with stories, usually on short deadlines. What I really loved about the Nikon and Sony cameras were the amount of keepers-pictures that I didn't have to spend much time on taking, but which were pretty much perfect out of the cameras.
Nikon D600
Last year, Nikon released the D800 which is something of monster full-frame camera with 36 megapixels, superlative image quality and price north of four grand without a lens.
If money's no option the D800 is a great camera but its little brother, the 24 megapixel D600 is the better buy. It can be had for at least a thousand dollars less, money that you can spend on lenses instead.
Overall, the D600 is a well-built camera aimed at semi-pros and enthusiasts with 5.5 frames per second and dual SD card slots, and all the usual features you'd expect from a camera at this cost and then some.
The picture quality may not quite reach the lofty heights of the D800, but in all honesty the D600 is capable of stunningly good images in just about every situation. This is borne out by the testing done at DXOmark, which measures the capabilities of camera sensors in-depth and gave the D600 sensor a score of 94.
Only Nikon's D800 and the specialist model D800E scored higher, at 94 and 95.
My review sample came with two very good yet moderately priced lenses, the Nikkor 28mm and 85mm ones with a large maximum aperture of f/1.8. This makes them very useful for low-light and indoors use, although neither is image stabilised.
Video is pretty good and clear but Nikon may have been in too much of a hurry to release the D600 to the market as the camera has an odd bug that means movies are framed with a black border if using the HDMI output. This is on the fix list for Nikon and should be addressed soon with an update.
There is also a problem with oil spatters on the sensor, and I know of people who have had to return their D600s to Nikon for free servicing.
The two faults are annoying but don't detract from what is a great camera with a large amount of lenses and accessories from Nikon and other manufacturers.
Price: $3,150 (no lens) to $3,800 with an 24-85mm f/3.5-4.5 image stabilised zoom.
Web: nikon.co.nz
Sony DSLT Alpha 99
Sony is pushing the boundaries with digital photography at the moment and the Alpha 99 is its top of the range interchangeable lens camera currently, with a full frame sensor and excellent image quality.
This is a pro-level camera with an incredible amount of features. There are probably a few too many like several auto modes and image filters, features that the target audience aren't likely to use.
Overall, the Alpha 99 is a solid, well-built camera that's weather sealed. It has a very good LCD at the back that swivels out, a feature all digital cameras at this price should have.
Pro photographers I showed the camera to were suspicious of the electronic viewfinder on the Alpha 99, but really, it's great with a sharp image and very little lag. What's more, unlike optical viewfinders, you get previews of pictures without moving your eye and it gains up in dark so you can see the subject better.
My main gripe with the Alpha 99 was the annoyingly imprecise joystick that Sony used for the camera. This made it hard to move around the many menus as you ended up nudging it to the wrong ones constantly.
Unlike the competition, which puts image stabilisers inside lenses, Sony keeps the shakes away via the sensor in the Alpha 99. It worked really well and means any lens can take advantage of image stabilisation.
The Japanese camera manufacturer produces lenses with the help of Germany's Carl Zeiss, with some truly excellent results. I was given an f/2.8 24-70mm and an f/4-5.6 70-200mm zoom, plus an 85mm f/1.4 fixed lens to try out the Alpha 99 with.
With those three lenses, I was constantly blown away by the pictures coming out of the Alpha 99. At the same time though, I tried not to think about how much they cost which was just under ten grand for all three.
One nuisance here is that only certain lenses in Sony's range work with the expanded autofocus capabilities of the Alpha 99 with 102 points across the image sensor. Lenses that don't have only 19 autofocus points grouped a little too closely together.
There are third party lenses and accessories for Sony, but the range isn't as great as for Nikon and other larger vendors unfortunately.
Full high definition video from the Alpha 99 is very nice too, and can be shot at high 50 and 60 frames per second rates with stereo audio recording via two microphones on the camera, or separate remote ones.
If you make money through photography and want something different, the Sony DSLT Alpha 99 is great albeit expensive choice.

Price: $3,900 (no lens).
Web: sony.co.nz
Sony Cyber-shot RX-1
Here's a beautiful full-frame camera that's portable yet makes few compromises when it comes to image quality.
That's not to say the RX-1 is tiny: despite some serious design magic that enabled Sony to make the camera body not much bigger than a compact camera the laws of physics get in the way so the fixed lens, a sharp Carl Zeiss with f/2 aperture and 35mm focal length is quite chunky.
It's a great lens though, sharp and bright so you'll forgive how much it pokes out after seeing the first few shots. While a fixed 35mm focal length lens instead of a zoom may seem limiting at first you soon get used to it - plus, there's a clever macro mode that lets you get really close to subjects if need to.
The RX-1 is in a league of it its own really and has been compared to Leicas costing twice as much.
Twice as much? Yes, unfortunately the small RX-1 comes with a big price tag of around $4,000 and is clearly aimed at rich snappers.
You have to spend more than that though. To make the most of the RX-1 you should splurge out on a viewfinder accessory. Focusing and composing shots on the otherwise excellent LCD at the back of the camera works most of the time but you rely on the electronics getting things right as it's easy to miss small detail holding the camera away from your eyes.
The viewfinder adds another $900 however, making the RX-1 a pricey proposition and other accessories like a flash are going to be expensive too.
You'd have to go "well, it's cheaper than a Leica" to justify it really. If you can, the RX-1 is a brilliant camera that won't disappoint.
Price: $4,000
Web: sony.co.nz