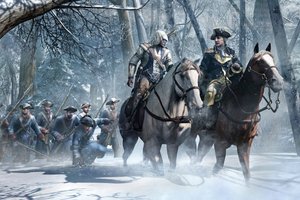 Assassin's Creed was built on the bones of Prince of Persia. The team, from Ubisoft's Montreal-based studio, were experimenting with the iconic PoP formula when they instead discovered something new: an action-stealth gameplay mix, in which your goal was to sneakily assassinate.
From that surprise beginning, the team hasn't looked back; the formula was embraced by legions of gamers and the series now boasts an enormous fan base all of its own. Prince of Persia, meanwhile, is dormant.
Never heard of Assassin's Creed? Don't be shy; while the ongoing story rewards people who have played each of the games, they're also relatively self-contained, with a sub-story that begins - and ends - within a single game.
Assassin's Creed III, which releases at the end of the month, is actually the fifth game in the main series. Not only that, but it's not one new game; it's two.
A companion game, called Assassin's Creed III: Liberation, is releasing for the PlayStation Vita.
Direct from mission control
Mission Director Philippe Bergeron has worked at Ubisoft for ten years, during which he's worked on many of the company's core franchises - including both Prince of Persia and the original Assassin's Creed. During that time he's gone from being a junior member of staff to one of the most senior people to work on the game.
If you haven't been following the information to come out about Assassin's Creed III, you might be surprised to hear that the title - which is a third-person action-heavy adventure - features naval combat. You control a "tall ship" and go toe-to-toe with other vessels, jockeying for superior position on the waves and using your various cannon types to blow your enemies out of the water. You have to consider wind, rocks, the weather - you name it.
"Ubisoft gave a lot of liberties to the development team," Phillipe explained. "They always want to out-do themselves; if you do one thing on one AC game, the next time you're going to try to out-do yourself, do something bigger and better."
"Each and every time, we try to make [Assassin's Creed] even more awesome; that was the same this time around. When we started, we were like... alright, what can we do this time? We could start with free-running in trees... we could never do that before. We could add naval combat... there's no way that could be done... well, let's try! Each and every time we just try and make it bigger!"
"In the Navy..."
In practice, the mode works extraordinarily well. You control the ship directly with the left stick, the camera with the right stick, and must attempt to position your vessel in such a way that the fixed-guns that run the length of your ship are pointed at the enemy. Firing your cannons triggers a reload-time cooldown, so timing your shots to maximum effect is key; wait too long, however, and you risk taking damage yourself, or - worse yet - the enemy getting away.
There are multiple scenarios, too, unlocking in sequence alongside the regular (on-foot) gameplay of the main game. While the tower-defence content added to Assassin's Creed: Revelations was a welcome diversion, naval combat in Assassin's Creed looks likely to become an exciting primary destination for many.
The winds of change
"This time around," Phillipe explained, "we're cracking at the seams. We have two disks on Xbox (multiplayer is on a separate disk to singleplayer); the game's big enough to fill the entire disk!"
Does that mean the team is eagerly looking forward to the next generation of consoles? Not necessarily; a change in technology has major implications, as Phillipe explained. "The end of a console generation, for us, is always pretty interesting. You're pushing the [existing] console to its maximum capacity."
"When you start on a new console, there's a lot of fluff; your code isn't optimized, your design isn't as efficient as it needs to be. When I think back to AC1, for instance, we couldn't even come close back then to doing what we can do now, but it's the same console. In a sense, it's sad to be finishing this console generation; we're at the point where we're making all these amazing games, we're pushing the console to the limit."
As if to prove this point the game engine for Assassin's Creed III was rebuilt after Assassin's Creed II. The iteration of the team's technology that we'll see at the end of the month has been some three years in the making, with core systems - including combat and the way in which your character gets around the world - rebuilt almost from scratch to better support the radical new era in which the game is set.
"The era forced us to develop our engine in order to be able to support it. Like running in trees and other organics; climbing and freerunning wasn't as robust as it is now. We redid the climbing code and freerunning to support tree running and climbing up cliffs."
"It's the same thing with NPC spawning; being able to spawn over 100 NPCs [at a time] was inconceivable in the past. Seeing as we have large scale battles - like bunker hill - we worked a lot on our tech so we'd be able to do that."
The technology is impressive in action. The variety on display - from the depths of a forest to the more familiar rooftop vantage - is vast, and yet nothing feels like "filler" content. Characters (yours and non-player characters that fill the world) move relatively realistically and, once again, the world feels populated.
Not playing politics
This core sense of gravitas likely stems from the team's focus, which sees the narrative drive the technology - rather than the other way around. "One of the first things we decided was the setting," Phillipe explained. "That triggered questions like 'what does it mean to be in this setting?'. There's a lot of unconquered land, like the frontier; what do we need to run around in that environment and have it still be fun?"
"If you think about AC1, you had the kingdom, and all you could do was run around on a horse; the environment wasn't as interactive. So we needed to be able to improve all of our climbing code and navigation to be able to support it better."
"The character also came from there; we didn't want to take a political position, we didn't want to say 'Blue coats are good, Red coats are bad' - we wanted to be more neutral than that. Native American became our best option; they were there, they had their own thing going on at the same time."
"It was interesting to see it from that perspective - everybody talks about the Red coat vs Blue coat conflict, but really there's this question of land being bought out and stolen, in a sense, from the native Americans, so it's really interesting for us to look at that with the American Revolution as the backdrop."
Familiar faces
The revolution was an important part of American history, and featured some very prominent figures. As is the Assassin's Creed tradition, many of these have made the transition into the game. "This time around you'll get to meet George Washington, Benjamin Franklin, Thomas Jefferson - most of the founding fathers are in the game. There are more historical characters than in previous games, just because everything is so well documented, we had so many characters to choose from."
A character that's featured in every Assassin's Creed game is Desmond; the modern-day player character whose lineage provides the window back to his ancestor's memories. His journey may have started out somewhat unenthusiastically, but now, as his own adventure becomes all the more perilous, gamer attention is increasingly focused on wondering what happens next with him.
"[Assassin's Creed III] doesn't necessarily conclude Desmond's story, but it does close a chapter. We wanted to spend more time with Desmond than we had in the past; he was in a rut, for the past three games. We wanted to take a step forward, to put Desmond in a more active role than he was in the past. He has full-fledged missions this time around; they're not side activities."
* Assassin's Creed III is scheduled for release on Xbox 360 and PlayStation 3 on October 31, with Wii U and PC versions to follow in November. Assassin's Creed III: Liberation arrives on the PlayStation Vita on October 31.