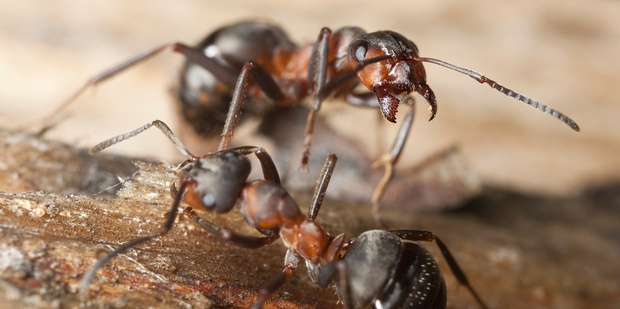 RADIO ANTS: At the University of York in the UK researchers are fitting 1000 northern hairy wood ants with tiny radio receivers. The researchers want to to find out how the ants communicate and travel between their complex nests. Each radio receiver is 1mm in size while worker ants can be 8 to 10mm long. The receivers are glued onto the ant's back just behind the head. That's one finicky job! University of York has more. Check out the video.
I SPY FIDO: What does your home security camera watch? If the answer is your front door then here's another idea: keep an eye on the family pets while you're out. The Maspro home security camera has a 110 degree field of view so it can be tucked into the corner of a room yet see the whole area. Owners can log in via their smartphone to see what's going on. The megapixel camera has a digital zoom and tracks subjects to keep them in the centre of the screen.
If you have several pets in view you can select which one to track at any given time. Alerts can be set up too, for example to send an email if there's no movement for several hours. Wave to the camera! DigInfo TV details.
WAVING AT STORMS: The WaveGlider from Liquid Robotics is an autonomous ocean vehicle powered entirely by the waves and the sun. It includes numerous sensors for measuring water temperature, wind speed, and various wave characteristics, GPS and satellite communications. The US National Oceanographic and Atmospheric Administration is using a WaveGlider named Alex in the ocean north of Puerto Rico to help track and forecast storms and hurricanes such as Isaac. It beats sending out a ship for the hazardous duties. International Business Times has further info. Video here.
WORKER BOTS: Coralbots are underwater robots designed to work in groups to repair broken coral reefs. The bots are being developed at Heriot-Watt University in Scotland to work on the cold water reefs in the depths of the Atlantic Ocean. The robots will have built-in video, image-processing and simple manipulation tools, such as scoops and arms. By working in swarms each robot can accomplish a small task, while collectively major tasks are achieved. And one day those cold-water bots may dream of repairing reefs in the warmer waters of the Pacific. BBC explains.
JUMPING ROBOTS!: If something truly out of the ordinary happens we have a startle response that may cause us to jump or take quick action. Now UK scientists have created STARTLE software for robots. The artificial neural network looks out for abnormal or inconsistent data. If the software notices something unusual it cues investigative processing to handle it. This could mean, for example, that a self-driving car would notice and avoid a pothole. In robots it may notice low battery power or excessive heat. The design mimics a part of the brain called the amygdala whose function is to provide a rapid response to threats. Robot games could make fun use of that. New Scientist elaborates.
Miraz Jordan, knowit.co.nz