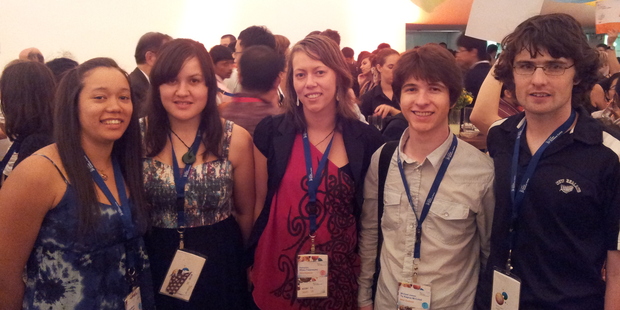 Some of the brightest young scientific minds in the Asia/Pacific region, including five students from New Zealand, yesterday completed a week-long immersion in cutting-edge science in Jerusalem featuring lectures by five Nobel Prize laureates and 25 other leading scientists.
"It was awesome," said Hanareia Ehau-Taumaunu, 20, one of the five Maori students from the University of Auckland. "My scientific world was very narrow. Now I see there are so many things out there. It's made me so much more curious."
The sixth annual Asian Science Camp was held this year in Israel.
Participants included 235 students from 20 countries. Two of the Nobel laureates and almost all the other scientists were Israeli.
Many of the participants termed the experience "life-changing".
Said physics student Michael McLeod, 19: "We learn from books about science that exists. What we heard here from the Nobel laureates and the others is what will be, what can be, where the cures for cancer and Parkinson's will come from.
"In university you learn what other people have already found answers for. What we heard here was inspiring. It shows where you might want to head."
The participants had an intensive week on the campus of Hebrew University with rounds of lectures that sometimes lasted until 11pm.
"We also had to work on various projects that kept us up," said Molly Anderson, a medical student. "I averaged six hours of sleep a night and one night got only four."
One of the projects was for each student to be part of a multi-nation team - itself an exercise in communication with peers from other cultures - that was asked to pose a scientific problem of its own devising and propose a solution.
Hanareia said the chance to work with peers from other countries was one of the highlights of the camp. "These are friends I will network with when I start my scientific career."
The students did get one day off for a visit to Tel Aviv and a tour of Jerusalem's Old City.
"This week has given me a passion for science," said Awhina Hona, 18, a biology student.