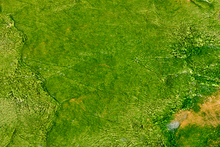 ALGAL BLOOM: Sapphire Energy is setting up a 300 acre algae farm in New Mexico. It will produce 100 barrels of algae biofuel a day, or 1.5 million gallons per year. That's a lot of land devoted to algae. If only they could find a way to make algae farms at sea. GigaOM details.
UNIVERSAL CHARGE: Ah, electric cars: drive around all day then plug in to recharge overnight. But think about it: if everyone plugs in at the same time won't that create the kind of spikes electricity companies already see round dinner time or breakfast? And if everyone needs to charge their car at the same time, companies may have to build new generating plants. A study of real-world use in Texas has shown this is a genuine problem. Oops. Scientific American has further info.
INSIDE INFO: A new battery sensor from GE Global Research is small enough to actually sit inside the battery, rather than outside it as sensors usually do now. It fits between battery cells to give precise and relevant readings. Data from inside a battery while its in use could help extend battery life or, in the case of electric vehicles, help drivers optimise their driving.
Reliable and accurate data can make all the difference. Wired explains.
NEED A HAND?: Our hands are very complex and capable of very sophisticated movements and actions. Gestures we take for granted are very hard and costly for a robot to imitate. The Sandia robot Hand takes a new approach. Its digits attach with magnets, and the electronics are mainly the same parts found in cellphones. It also costs only about 1/25th what a state of the art robot hand costs. The Sandia Hand can pick up a door key, or an AA battery and insert it in a torch. The current hand has 3 fingers and an opposable thumb, as researchers found this is enough for most activities. The hand is operated by glove or control panel. With its dexterity, this robot hand could be an asset for disarming bombs. A spare hand is always useful too. Scientific American has the details. Check out the video.
LIGHT WARMTH: Aerogels are extremely lightweight materials made from silica. The problem is, they're also fragile and brittle. Now scientists from the Glenn Research Center in the US have made them up to 500 times stronger by using polymers. These new versions of aerogel are very flexible and could be used to create highly insulating clothing, or perhaps in the walls of fridges and freezers. NASA are also considering using the aerogel in spacesuits. Extra warmth for much less weight must be a winner. BBC elaborates.
Miraz Jordan, knowit.co.nz
By Miraz Jordan