Angus Deacon takes a serious look at a light-hearted Skylanders offering.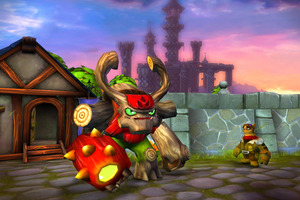 Skylanders is set for a sequel later this year, but I was pleased to see that Skylanders: Giants is not just a hurried release to cash in on a craze. Instead, it looks set to push the boundaries of the game - especially in terms of gameplay and replayability.
The name Giants refers to a whole new range of Skylanders figurines, who - as you might guess - are gargantuan in size when compared to the original characters. Currently, there are three announced Skylander Giants. Tree Rex; a towering destructive force from the Life element that reminded me greatly of an Ent from Lord of the Rings. Bouncer; a single-wheeled robot armed with laser eyes from the Tech element. And, finally, Crusher; a menacing looking rock golem from the Earth element equipped with a giant mallet. There will be more Giants announced, including new creations for the Water and Air elements, soon.
With larger figurines, the Skylander Giants also bring new abilities and gameplay options for players. Their hulking size means that they can pick up and hurl trees at enemies, or move large boulders and obstacles to gain access to areas usually unavailable to standard Skylanders.
Executive Producer Scott Krager reassured me that the gameplay is still balanced too, with the original smaller Skylanders still being important and fun to use. There are advantages to playing with either type, and players will switch between them just as they did before.
Speaking of the original Skylanders, anyone with an impressive collection of the first wave of figurines can rest assured that all of them will still be fully compatible with the sequel. In fact, Giants expands their potential by allowing players to level up every Skylander to a maximum of level 15 now (up from level 10 in the original).
Furthermore, to anyone who managed to collect the entire set of original Skylanders figurines, we have some good (or terrible) news. Activision will be releasing the entire first wave all over again, but this time in alternative poses. Players won't need to level up identical characters though, if you pick up a Spyro Wave 2 figurine, he will come into the game with all the stats of your original Spyro.
Collectors will also want to keep an eye out for special Light Core Skylanders too, each one featuring battery-less parts that glow when they are placed near your Portal of Power (the platform that figurines are placed onto to activate them within your game). Krager showed us a couple of Light Core characters and they looked sweet. Each one also includes a Smart Bomb attack when first activated, clearing the screen of any enemies with a devastating shock-wave.
While Skylanders: Giants doesn't change the gameplay formula much from the original, developers Toys for Bob have made plenty of improvements to keep fans happy. It's the little things that make a big difference; for example, the eight elemental zones are now more visually different, with the entire environment morphing around you. We watched as a little Skylander Jet-Vac tried to enter The Undead Zone, where the clouds turned dark purple and the entire colour palette switches to appropriate dark and grim tones. It made the original game look bland in comparison.
Giants also introduces interior environments to the series, with caverns and buildings to explore. Krager emphasised that the sequel will encourage players to roam the new open-world to seek out secrets and hidden collectibles.
Finally, Giants will still feature drop-in/out multiplayer, but it now also includes three new difficulty settings to both cater for new players and, more importantly, offer harder challenges for serious gamers. There is word on the street of new multiplayer modes as well, but nothing has been announced quite yet.