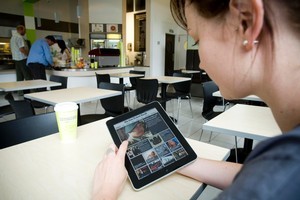 Addicted to your iPad? It could become a painful habit.
Doctors are reporting repetitive strain injuries and muscle problems among heavy users of tablet computers. Aches in the hand used to hold them, pain in the fingers used to type and swipe the screen, and arm and neck problems after hours with them propped up on knees are the most common complaints.
Some experts are now warning iPad owners not to type on their devices for long periods.
But Dr John Pappas, of the Beaumont Centre for Pain Medicine in Michigan, said: "You can avoid problems by following the same protocols suggested for laptops - buy the right accessories to set the screen at a comfortable working height and use an external keyboard."
- DAILY MAIL