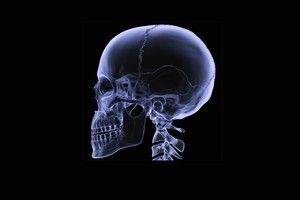 JAWPRINT: So after you've 3D printed a bunch of handy stuff for around the home what next? Well, one 83 year old got herself a new jaw from a 3D printer. At the University of Hasselt in Belgium a team quickly printed a new jaw using layers of titanium powder correctly fused together by a computer controlled laser. Then the jaw was finished with a bioceramic coating. It's slightly heavier than a standard jaw but the patient was talking and swallowing the day after the surgery. The operation itself took four hours rather than 20, and the patient was able to go home after four days rather than the usual four weeks. If the jaw's titanium I guess the false teeth will be securely screwed in. More details here.
FRAGILE: The world's thinnest sheet of glass comes in at just three atoms thick. Scientists recently made it by accident while working with graphene. The ultra-thin glass, made of silicon and oxygen, could be used in semiconductor or graphene transistors. But will it be strong enough to withstand normal vibration? Science magazine has more here.
TB IN HAND: It can take days and a laboratory to identify pathogens such as tuberculosis, chlamydia, gonorrhea and HIV. A couple of scientists from Cornell University aim to create a handheld device that could cut the time required to around half an hour and be really useful in developing countries. Specially synthesised DNA is designed to lock on to certain pathogens. When exposed to ultraviolet light it creates distinctive molecules. The testing kit contains a chip that measures both the mass and charge of molecules and identifies the pathogens. I'd think it'd be handy for any doctor anywhere, at least as a screener. Read more at Cornell University.
ARE YOU FEELING SLEEPY?: The Australian SmartCap looks like a regular baseball cap, but it's not. Instead it's a fatigue measurement and management tool, especially useful for those who operate heavy machinery or drive long distances. Sensors in the cap measure the wearer's brain waves via EEG. Then the cap calculates a measure of drowsiness and sends the data wirelessly to a display in the vehicle or a Bluetooth device such as a cellphone. The system can detect when the cap has been removed. Originally intended for use in mining, the cap can be used by many other industries too. Office workers: caps on! Details on SmartCap here.
SAILING SHIPS: Around 50,000 ships carry 90% of the world's trade cargo, and to do it they burn a cheap but heavily polluting oil. That's why the Australian firm Solar Sail hope to clean up the shipping industry with their sails covered in solar panels. They say using the sails alongside the usual fuel could take up to 45% off a ship's annual fuel bill. One smaller vessel, the Solar Albatross, is already at work as a ferry in Hong Kong. Ah, the circle of development. More at the BBC.
- Miraz Jordan knowit.co.nz