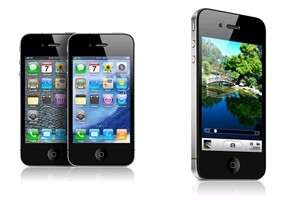 It's bigger, it's smaller, it makes coffee - we've had a wide gamut of rumours already. Well, it's coming - and that's about the only thing we can be sure of.
Apple is said to be doubling production of iPhones, and is expected to unveil the iPhone 5 soon. Or a cheaper, possibly retooled iPhone 4, perhaps a sort of 'iPhone 4GS' like the interim, faster 3GS model that appeared before the iPhone 4.
Or both.
A few months ago the rumourists were talking about 'two sizes of iPhone'. The pundits seemed to like an 'iPhone mini' idea, but now that concept seems to have been dispelled.
Now various cases, or perhaps bogus cases, have been pictured on the 'net. The latest reports say the new phone will have a metal - not reinforced glass - back and the screen will have a smaller bezel surround, making it seem bigger in proportion to the device.
As for the oft-requested 'bigger' all round, I don't want anything bigger. The current form suits my pocket just fine, thanks.
Whatever emerges, Apple is drastically ramping up iPhone production for the second half of 2011, according to Apple's manufacturing partners overseas, with up to an estimated 58 million units expected to ship.
But what would an iPhone 5 have to offer? The Apps experience is well in hand, with the App Store now serving more downloads than the iTunes music store. Apple recently announced its 15 billionth app download. With the App Store such a phenomenal success, it has been widely emulated by competitors.
Seriously, would anyone except hard core coders and geeks bother with Android if it hadn't managed to replicate what the App Store delivers? With an app store, it also becomes the domain of the plain bargain hunters.
Remember, Apple's App Store has only been around for three years.
Perhaps an iPhone 5 will have video chat on 3g and 4g cell networks (currently it's restricted to WiFi only), face recognition and 'extreme downloading'.
A new chat service has been promised via iOS5, which allows direct messaging between Apple devices similar to the Blackberry messenger service. I have seen no mention of whether the better-healed English 'shopping rioters' have designs on iPhone 5 as an organisational device. From flash mobs to, uh, flash MOBS!
This DM has already been shown (at WWDC in June), integrated into the threaded SMS/MMS application on current iPhones.
An iPhone 5 will most likely be equipped with the speedier dual core A5 processor as deployed by iPad 2, along with a more powerful graphic chips that can deliver higher video resolutions.
On the processor front, Apple's relationship with Samsung has been souring due to patent disputes. Apple has been developing an A6 CPU itself, but it probably won't appear until later in 2012. Rumours indicate the A6 is a quad-core Cortex-A9 CPU built on 28nm at TSMC and utilising 3D fabrication technology. While the Cortex-A9 is a proven design, Apple's A6 will be one of the first 28nm chips on the market, serving as a test case for 28nm gate-last technology and 3D chip stacking.
The A4 and A5 have both historically been manufactured by Samsung, as have many other components in Apple devices and computers.
Almost assuredly, the built-in camera resolution will go up.
But some of the features wished for are just silly - it's a grab-bag of geek dreams from which you can draw your own conclusions.
CNet's list of Most Wanted iPhone 5 features, ranked from least to most important, might be more like the real thing - at least, we would hope Apple addresses some of the top most-wanted features. CNet's top request is next-generation 4G data network support.
But how much use would this be to us in New Zealand? AT&T in the States will reportedly have a 4G network up and running this year, and Sprint has already rolled out 4G. Verizon has deployed a 4G network, but it currently works with only the HTC ThunderBolt (the data speeds are impressive but apparently the unit's battery life is a major drawback). The Verizon iPhone 4 does not support 4G data.
Because using 4G is taxing on battery life, many don't believe Apple will include true 4G data support in the iPhone 5. However, the longer Apple waits to debut the iPhone 5, odds for true 4G increase.
CNet also wants a 'proper' redesign, but how different can an iPhone practicably be? Other rumours posit the iPhone 5 will have a radical new shape. The mind boggles. I doubt it. But Apple has done this before - look at all three major shapes of the iMac.
But with mobile technologies like near-field communications (NFC) and high-speed 4G networks gaining ground, Apple risks falling behind NFC-equipped devices from Nokia and Android phones slated for the end of the year if it passes that technology by.
Fewer dropped calls is a request (I have to say, I don't make or receive many calls, but I have never dropped one); and better battery life is an obvious request, although the iPhone 4 was so much better than the 3 it still feels good to me. A universal CDMA/GSM phone is the fifth top request.
Personally, I would put battery first (more is always better) and CDMA/GSM second, for easier travel options.
The iPhone 4 was the top-selling smartphone in the US in the second quarter of 2011, and the next best-selling smartphone in the US was ... the iPhone 3GS. These were followed by the HTC EVO 4G, HTC Inspire 4G and Samsung INTENSITYII (in fifth).
US research firm NPD noted that Android took the majority of sales with 52% of new adopters in Q2, due to the fact that the Android OS is preinstalled on such a wide variety of hardware from different manufacturers.
So Apple has a lot to do to impress. The iPhone 4 is an excellent device but Apple needs to keep its progressive momentum going. It was originally expected Apple would 'need' to release a new model in the Northern Summer; now it looks like October. Whatever happens, Apple won't be rushed.
But it's coming.