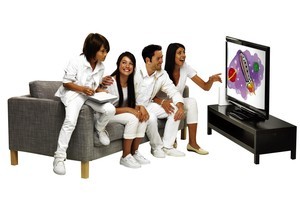 Colouring books are looking decidedly old school next to a new product for Nintendo's popular, albeit nearly obsolete, Wii console.
The uDraw Game Tablet - aims to put art software and games like Pictionary on your TV, and succeeds - but not completely.
This reasonably clunky and cumbersome device will not win favour among gamers or anyone who has used a proper graphics tablet on a PC. To set up, your Wii controller needs to be stripped of its wrist strap, case and MotionPlus accessory, used to initiate the game, and then inserted into the $149 uDraw.
So off the bat, it's hard work to get going. The drawing functionality in the bundled uDraw Studio software is pretty good, with tutorials and activities that will work nicely as digital babysitters. There is an obvious disconnect between drawing on a tablet with a big, thick wired "pen" and watching the results on a television, but you do get used to the limitations and control style.
It allows a wide variety of arty endeavours and a number of tools to perfect your work - although as Wii does not support high definition, the results on a large TV can look a bit unfinished. Exports to an SD card, however, are at better resolution.
Pictionary ($74) is an interesting take on a classic board game, but is not as quick or easy to play as the original - and players have to cover their eyes when clues are revealed.
Nintendo has already announced that the Wii's successor will be unveiled at the E3 games expo in Los Angeles in June.