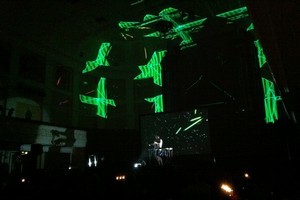 New Zealand's web creatives came together at the Wellington Events Centre last night for the posh Onyas awards.
This was once the Wellington Town Hall. It's a lovely, Victorian building in lemon meringue colours down by the picturesque waterfront.
People filed in, registered, mingled and then sat at their specific tables. The food and the service was excellent, just like last year; you pays yer money, then boy do you get looked after at Webstock. Many attendees and indeed the speakers can't quite believe their luck.
Here are the results from the annual awards that celebrate all that's good in the Kiwi internet tech space, for design, coding, aptitude, attitude and usability:
Best mobile website
Shift, for 'Metservice Mobile Site'
Best accessibility
DNA/Pitch/PixelFusion for 'Royal New Zealand Foundation of the Blind'
Best use of HTML & CSS
Heyday for 'Heyday'
Best user experience
Eventfinder for 'Eventfinder Pro'
Best content (personal)
Courtney Johnston for 'Best of 3'
Best content (corporate)
Heyday for 'Down to the Wire'
Best mobile application
Marker for 'AlphaJax'
Best web application
Kiwibank & Social Capital for 'heaps!'
Best visual design
Resn, & Crispin Porter and Bogusky for 'Dominos - Behind The Pizza'
Most innovative
Kiwibank & Social Capital for 'heaps!'
Most outstanding website
Heyday, for 'Down To The Wire'
Then it was an audio-visual show, then I left to file this story instead of partying down.
True story.
(Once again, awesome job to Mike Brown, Natasha Lampard, the rest of the team, their volunteers, Julie Starr and everyone else involved.)