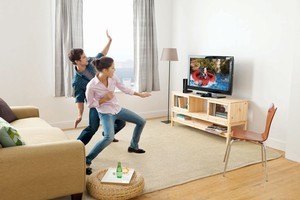 Every single house with kids had at least one electronic device used for video games. 2010 marked the year the gaming world spread its wings. Matt Greenop looks back on the year's technological advances.
It's fair to say that 2010 has been a fire-breathing monster of a year for the gaming world. The population at large - which a few years ago thought most gamers were anti-social pasty freaks in darkened rooms - are now, slowly but surely, becoming gamers themselves.
Now that the industry has the technology to simplify gaming for those who are all thumbs when it comes to controllers, the wondrous world of gaming that us pasty freaks have long enjoyed is becoming more accessible.
This move to normalcy was kicked off by the now-ageing Wii console and its once-revolutionary motion control system. Nintendo is now suffering from its lack of the high-definition graphics that we need to feed our big TVs and the motion control mantle has been picked up by the other two players - Microsoft and Sony.
Sony released its Move system, which uses Wii-like wand controllers that are moved to control on-screen action. It's an impressive way to play that uses the PlayStation Eye to map controller movements with staggering one-to-one accuracy.
Sony announced at the end of November that it had shipped 4.1 million Move controllers in just two months.
Microsoft has taken Xbox gaming to a whole new level though, with the technological marvel that is Kinect. This system forgoes controllers completely and uses a very clever black box that includes a camera, microphone and depth sensor that literally maps your body's movements. Taking button pushes out of the game is the biggest move towards accessibility the industry could possibly make - even Granny can play. Microsoft announced at the beginning of the month that it had sold a staggering 2.5 million Kinect sensors and planned on doubling that by Christmas.
Both Move and Kinect are still in their infancies, both are already offering a reasonable pile of games to appeal to most parts of the game geek marketplace - but it is what the clever clogs developers will come up with in the next 18 months that will be truly interesting.
Another bit of happy news served to back up the theory that gaming is spreading its wings across previously hesitant demographics was a huge survey of New Zealanders that revealed the average player was a bloke in his early 30s, females played almost as much as men, and every single house with kids had at least one electronic device used for video games. The geek shall inherit the earth, they say. For a change, the demonising of video games wasn't particularly widespread in 2010 - the only real drama was around Electronic Arts' Medal of Honor, a first person shooter that made the rare move of tackling a current conflict, Afghanistan. It was announced that you could play as the Taleban in multiplayer mode, and instantly hackles were raised across the globe as Britain, the US and even our own hugely uninformed Defence Minster labelled the game a disgrace and called for it to be banned. If any first person shooter is respectful to fighting forces, it is Medal of Honor - it is a tenet of the franchise, and always has been. The reality was that most of the game was about fighting the Taleban and only the multiplayer mode allowed playing as them - in much the same way as someone needed to be the "robber" in a game of cops and robbers.
It would also appear that the days of a console just being a games machine are well and truly over, and added-value tricks are worthy extras when deciding which console to buy. The Xbox 360 offers Facebook, Twitter, video conferencing (via its Kinect sensor) and a huge number of music videos and high definition movie downloads.
Last month Sony finally released the PlayTV add-on to the PlayStation. It is a tuner box that turns your PS3 into a digital video recorder, and we've been waiting for it since former New Zealand-based SCE executive Warwick Light accidentally announced the device during an interview in 2008. We do get high-definition recording though, plus a nice EPG and the ability to chat with mates about what's on the box.
Sony also added a TVNZ OnDemand app, which was initially a bit clunky but now runs reasonably smoothly at both standard and "high" definition.
The latest addition was an access app for Mubi - an arthouse and indie cinema repository - offering squillions of searchable non-blockbuster releases for a monthly fee. And there's VidZone service which launched just prior to Christmas last year, started by Kiwi Adrian Workman.
VidZone offers music videos for nix, which are funded by a small amount of advertising.
We're only going to see more of these "extras" in terms of content - and it is likely that in the coming year or so we'll start to see deals done with ISPs (internet service providers) that will offer zero-rating on data downloads - that is, downloads from a particular service will not count towards data limits included in home broadband plans.
Fingers crossed.