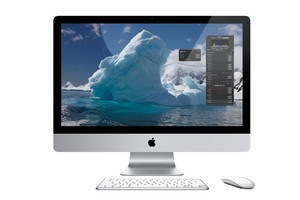 After a recent death in the family, I became very interested in the rather bizarre and disparate branches of my lines. Like many New Zealanders, it draws on people overseas and it's multi-ethnic.
Something that aroused the detective in me was the large cache of photos that ended up in my possession. Some of the people, of course, are known to me or recognisable - but about 80 per cent are not. For someone obsessive, this proved a challenge.
I resolved to track these people down - but many of the photos were also old and damaged. They needed scanning, and they needed restoration.
Luckily Apple is far superior at all these tasks to anything else on the planet.
Just kidding. I can only assume it's no better than the alternatives, but I used the tools I had - an Epson multifunction with a good scanner, my MacBook Pro, Apple Aperture plus, a couple of times, Adobe Photoshop.
Aperture costs $354; you can buy it at Apple Resellers or online.
I turned the dust and scratches filter off in the Epson Scan software - you want to scan as much detail as possible in such detective work, and you can't afford to have an arbitrary routine taking out something that might be of utmost relevance - for example, assuming a unit insignia on a military jacket is a blotch, then smoothing it over.
I used cotton gloves to handle the photos, by the way. Some of them are almost a century old and from the fading, cracks and fingerprints, it's clear they haven't been afforded much care in the past. Since they've somehow come halfway across the world to be here, I'm glad to have them at all.
Scanning them is doubly useful - it makes copies that may last longer than the paper originals. You can print them out for people, post them in web galleries (which is ridiculously easy thanks to Apple's MobileMe subscription service) and burn them to CDs so other family members can weigh in on who's who.
You can even port the name-tagged faces to Facebook and the names are converted to Facebook tags. That's your free alternative, right there.
On historical projects, and as an ex-darkroom technician, I learned to go over old photographs very carefully, section by section, with a magnifying 'loupe' before starting any restoration.
And not just on the front - any writing, official stamps, printed text or even the faint imprint of such can be of enormous importance. The virtual Loupe in Aperture is also really good for this, once they're digital.
If only there had been more writing on the backs! With my future descendants in mind, if anyone ever gets the same impulse, I resolved to go through our existing albums with a pencil and mark the backs with who's who and, at least, rough dates as I currently remember them, and locations.
Aperture's Faces feature (facial recognition) proved a godsend - since it's essentially the same as iPhoto's, that would be as effective (but Aperture has much more sophisticated retouching).
Aperture, since it's also Apple, picks up an iPhoto library and all its Faces and Places, by the way. So if you've started out in iPhoto then want to upgrade for more powerful features, it's a logical and handy path.
To be honest, what I was hoping for was a miracle. I was hoping that Aperture's new (as of the last version 3x) face recognition technology would magically identify people I could not. I have photos of individuals and small groups, but also wedding and other large group photos.
After tagging a few, I hoped Aperture would figure out tiny unfocused blobs were Uncle Harold and Second Cousin Olive - but this only happened a couple of times. A face changes a lot in thirty years - Olive as a two-year-old is not recognisable to anyone, or anything, as the same person at 30, never mind 70. You need a person who knew them for that, or, please Lord, some writing on the back of the photo.
Although Aperture did not perform any miracles - indeed, it tried to identify a piece of wall as Mrs Braybrook, and Jessie Rolls at three as Charles Wright at 40 - having tagged the faces the cork-board interface became exceedingly handy as a reference for other images that turned up, or going through those crowd scenes, and for seeing how people changed over the years.
Good one.
Likewise the Places feature is pretty handy. This is also in iPhoto. The software I bought online - a Mac application made in Germany called MacFamilyTree - also has a map feature, but it's hard to use.
Aperture's map is much easier, and being able to plot family members (mostly around East London and in Cambridgeshire, in my case, plus the outlaws from Holland) really builds a compelling picture of your familial background, which helps if you wan to read about the histories of areas your people came from. (Did I say I was obsessive?)
MacFamilyTree writes and reads the industry-standard GedCOM files, giving you almost 100 per cent compatibility with the files written by PC software and by those created by online services.
You can upload exported files to genealogy sites, and it has pretty sophisticated features for finding mismatched people, and even lets you assign pictures to profiles from the Finder, or direct from iPhoto and Aperture and multiple notes, including births, deaths, circumcisions, Bar Mitzvahs, christenings, marriages, divorces, adoptions, historic events ...
I am pretty happy with MFT, apart from the difficulty in assigning a location to an entry near first input, and the PC-style interface of some dialogues where you feel like you have go through 5-6 button presses where in good Apple Design Guideline cases us Macophiles expect just one or two.
But I fed this opinion back to the MFT developers and they responded in 6 hours thanking me for the feedback and saying they were working on implementing improvements. So that made me still happier with it.
MacFamilyTree is by Synium, and costs US$49 (about NZ$63), if you are interested.
Anyway, back to retouching. Aperture, apart from the non-destructive editing (a boon for anyone protective of historic documents), offers several retouching tools including a repaint brush which resamples the area around it, skin smoothing brushes (not so handy - these aren't fashion shots) and clone, like with the Stamp tool in Photoshop.
One feature I grew to absolutely adore in Aperture is the brush size changing - just roll your scroll wheel. This is incredibly convenient to use, right over a scratch or blemish, and I wish Photoshop had the same - but Aperture's smallest brush was not quite small enough in some cases. So I reverted to Photoshop a couple of times for very close-in cloning of scratches or cracks on faces.
Also extremely useful, with scans that rarely sit completely true on the scan platen, is Aperture's very easy-to-use straighten tool which is also one if the best features of iPhoto, and Crop.
Another feature I really like is the Definition slider - it takes little knowledge to use, unlike the best of Photoshop's Smart Sharpen, and does a great job on old photos.
Many of the filters can be brushed on - Levels, Curves, Highlights & Shadows ... this is very useful, and an improvement over Photoshop's less sophisticated Dodge and Burn.
All in all, my genealogical hunt on my Mac has been very rewarding and interesting - but I am keen on readers' comments, advice and findings on the subject.
[Further to the subject, a new Australian and New Zealand history and genealogy magazine has just been launched: Inside History. It comes out every two months.]
- Mark Webster mac-nz.com