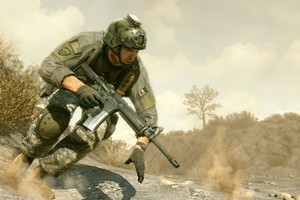 According to our Minister of Defence, this is a videogame nasty. Wayne Mapp was reflecting worldwide anger over Electronic Arts allowing gamers to play the part of the Taleban in the multiplayer version of the game. Stupid. And by removing references to the Afghani militants in multiplayer, and relabelling them "enemy", everyone, it seems, is now happy.
For the entire single player mode and the Tier 1 online game (basically re-doing main game missions to hit targets and build your ranking on online leaderboards) you're fighting the Taleban.
The game itself is fantastic, excellent graphics and a good variety of pace that sees players frantically battling through villages in one scene, to firing missiles from a gunship at mountaintop hideouts in another, to stealthily crawling on their respective bellies to avoid detection in yet another. The graphics are stunning, especially on large high-def screens in conjunction with a Dolby Digital-capable AV set-up. Multiplayer is well-sorted with four game modes, eight maps and the promise of downloadable content.
Where Medal of Honor falls over is the length of its core campaign mode. On the middle of its three difficulty settings, the credits rolled within about six hours. Gameplay glitches were frustrating - AI characters getting underfoot and blocking exits being the worst, prompting at least one checkpoint reset.
Verdict: With franchises like Call of Duty and Battlefield already ruling the console market, Medal of Honor is facing an uphill battle. It does provide a realistic look at a current conflict, and does it well, although the slim campaign mode was disappointingly short. Online and multiplayer - now that the "bad guys" have been relabelled - are definite winners.
Rating: 4/5
Format: Xbox, PS3, PC
Classification: R18