That most Ye Olde England of videogames is advancing its empire.The game's legendary developer Peter Molyneux talks to Matt Greenop about Fable III.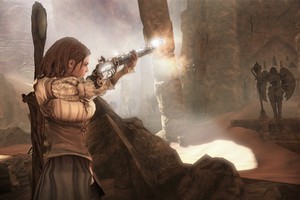 One good turn, they say, deserves another. This is a theme that has been explored in the videogame world a few times - but nowhere as vividly and in such depth as the extremely popular Fable series on Xbox.
Created by famed game designer Peter Molyneux, the games let you develop a character based on his behaviour - act in a nasty and violent manner to the wrong people in-game and you'll find townsfolk cowering as you approach, but go the other way and you'll become a hero.
The Fable franchise goes back to the original Xbox console, back in the mists of time in a very English place called Albion - the world then was basically cutesy hamlets, bandits and bartering. You could even get married and have kids. As it leapt on to the next-generation Xbox 360 in Fable II, the quaint village had become more advanced - a proper town where you could even buy houses and rent them out as you wandered a massive open world, building fame or infamy and cementing your position as an Albion persona of great import.
Now, in Fable III, the town has evolved into a city, the (or at least an) industrial revolution has morphed the once-idyllic Albion into a smoke-spewing little powerhouse, ruled under the iron fist of tyrannical King Logan.
From the outset you're faced with the prospect of revolution - overthrow the evil older brother and shape Albion's future yourself. There comes the big choice - will you follow his path and become the nasty, impatient and frighteningly violent King that he was, raking in riches but feared and hated by the people? Or will you work to become a nice leader, giving everything for the greater good and risk being overthrown yourself?
Brit Molyneux, whose game credits include titanic titles like Black & White and Populous on top of his Lionhead Studio's Fable success, admits the third episode in this riveting action adventure series is darker than seen previously, tackling the good or evil theme with a much, much pointier broadsword.
The British humour remains, of course, much of which comes from the townspeople who could be anything from rolling drunks to loose women or stupid business people - who can all change their attitude towards you based on your decisions.
Explaining why the Fable theme has taken on a much darker hue, Molyneux notes that he was sick of samey stories across all mediums: "Ninety-five per cent of the stories I read, play or watch are basically the same."
So not only did Lionhead change up the gameplay mechanics and improve the way players organise their loot, weapons and myriad costumes, it introduced a real, evil, adversary.
"And why shouldn't I change everything, just because it's the third game?
"Now we've got a great bad guy, Logan, and he is the king of Albion. When he took the throne he started becoming this powerful, tyrannical figure where he is turning this beautiful Albion into an industrial wasteland - he wants everybody's money. It's like living in England," he jokes.
"You start off with some hero power, which you slowly build up, and you try to get followers.
"The more followers you get, the more powerful you get and the closer you come to overthrowing this evil tyrant.
"When you do overthrow him, you're going to assault his castle, take out his army, face him and possibly kill him. That's the halfway point.
"After that, we allow you to be king, we allow you to rule Albion and to take people's money and stuff into your treasury or spend it all painting a pink castle - which you can absolutely do.
"We can allow you to have a lovely green perfect Albion where no one goes hungry - but after a year it could all turn to rubbish and the economy could crash.
"That's what Fable is now all about - power, responsibility and consequences. The decisions that you make now affect an entire kingdom rather than just a single person."
The consequence spreads throughout the game on all levels - if you use a sword or gun a lot, it will improve and change in appearance; the more fighting your do, the bigger your character's muscles get.
"It's levelling up like in role playing games - but has been made to feel like and action adventure. It's about doing things in a world that have an effect."
Molyneux's reputation is one of slightly-mad genius - and it's deserved, to a degree. He shrugs off game industry norms and very much marches to the beat of his own drum. What does this mean for the future of Fable? Who knows, we might see an Albion spaceport and little green men a in a few years time - then again, we might see something completely different.
LOWDOWN
Who: Peter Molyneux, mad genius game developer
What: Fable III
When: Launches on October 26 for Xbox 360
-TimeOut