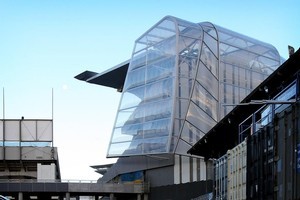 Spectators at the upgraded Eden Park can expect to experience the latest in stadium technology after a fit-out by Telecom's Gen-i division.
Gen-i have been re-signed to provide a new IP-based network, with partner Cisco, that will support Cisco StadiumVision digital signage, WiFi, electronic turnstiles, security and building management as well as boosting mobile capacity and coverage within the venue.
Gen-i's general manager of national corporate sales Steve Mills said the new network would bring the best practice stadium technology in the world to Eden Park.
Glen McCracken, ICT project director with Eden Park Redevelopment Board said the StadiumVision technology, one of the first installations of StadiumVision outside the US, would not only control the main screens showing the game, but 300 monitors throughout the stadium supplying images from the game, directing people to seats, detailing the length of queues at various food outlets and controlling digital menus for the outlets.
Mills said the growth in mobile devices, from high-end phones to iPads, were having a huge impact on designing IT systems for stadiums.
"The LAN and WAN infrastructure is being built with that in mind so it can scale right up to it being full and there being heavy demand on the WiFi in particular."
Eden Park is gearing up for a dress rehearsal of sorts with a double-header league scheduled for early November.
McCracken said the core technology would be available for the league games from which point the team would get spectator feedback and "tweak" the systems.