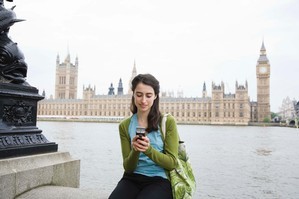 Unwary travellers are being stung by $1000 bills after using their phones and mobile broadband overseas - and the issue is on the Government's radar.
Communications and IT Minister Steven Joyce said it was one of the first issues raised when he took over the portfolio and admits he has been a victim of "sticker shock" while using his phone in Australia.
He is leading an investigation with his Australian counterpart, Senator Steven Conroy, into roaming between the two countries.
Mr Joyce said it was easiest to focus on the transtasman market - about one million people a year are flying each way - given the complexities of influencing other jurisdictions around the world.
An Australian report by international accounting firm KPMG estimated average markups charged by telcos for calls made while roaming - using your phone in another country - were 300 per cent higher than the margin on local mobile calls.
The disparity is most notable when considering mobile data used by people accessing the internet and email from their phones or mobile broadband devices.
Consumers can expect to pay between 20 and 500 times the local data price for the privilege of checking their emails while in Australia.
An initial report on the transtasman market by government agencies in New Zealand and Australia has found that we are getting reasonable features and services when we roam between the two countries, but prices were relatively high and it was hard for consumers to figure out what was behind the high prices.
Are we being ripped off?
"Look, it's too early for me to say that," said Mr Joyce.
"That would be a prejudicial comment to make. We're part-way through a process."
But Telecommunications Users Association head Ernie Newman is convinced we are being taken for a ride.
He is just back from an industry meeting in Brunei where he paid less per minute for the 28-hour flight, complete with meals, drinks and in-flight movies, than the $5-a-minute cost of a call back to New Zealand.
"What it amounts to is a huge industry slush fund that nobody really has any incentive to do anything about," said Mr Newman.
Consumers were unaware of the huge difference between what they might pay locally for calls and data compared with when they were in another country.
"A mobile phone should be an international tool that you can pick up and switch on when you arrive anywhere in the world, use your voice and data and know that what you pay is going to be more than you pay at home, but is going to be affordable and reasonable and somewhat related to the underlying cost of the transaction.
"Instead what you pay are charges that are quite frankly rip-offs, quite over the top."
Vodafone spokesman Paul Brislen said the boom in smartphones - mobile data use has tripled in the past year - has made people comfortable with using data on their phones and they then carry on the same behaviour when travelling.
"Text and voice, it absolutely is a case of knock yourselves out. To extend that into the data realm is a relatively new experience for a lot of travellers."
Telecom spokesman Mark Watts said the price reflected the deals the telco could strike with operators overseas.
He said that Australia's position as the number one destination for travellers meant it was easier for Telecom to get a good deal with network operators there.
"You can imagine our bargaining power in Nigeria or Germany or Mexico is necessarily much more limited because there are relatively few New Zealanders landing with their phones and wanting to dial," said Mr Watts.
"It's wrong to say that across the board there is huge, fat margins because there isn't.
"Those margins in any given market are a reflection of the business we can do and the deals we can strike with the people who own the network."
The Australian Competition and Consumer Commission has calculated that a quarter of what we pay to roam overseas is a retail markup.
Vodafone's general manager public policy Hayden Glass said that 25 per cent margin didn't sound huge in the context of telecommunications services, but competition in the market would drive those margins down.
Advice for foreign parts
* Check before you leave exactly what rates you will pay, including receiving calls and texts. If you need to make a call from your mobile keep it short.
* Look at alternatives to data roaming such as wi-fi hotspots, internet cafes and hotel broadband.
* Most hotels do not charge for incoming calls so pre-arrange a time to receive calls from home.
* Buy a local SIM to make calls.
* Use a local calling card for calls home.
* Turn off automatic downloads.
Got a huge bill?
* Both Telecom and Vodafone say there is no blanket rule for customers who return from overseas with a huge bill, but ask customers with "bill shock" to contact them.
* 2degrees currently only offers prepay services so customers are unlikely to incur unexpected costs.
* Ernie Newman of Tuanz says if you feel genuinely misled to get on the phone to their service provider and stay on the phone until the issue is resolved. Threaten to go to the media.
* Tell your friends how easily you can rack up a huge bill overseas.
* Don't do it again.
- Sources: Tuanz, Vodafone, Telecom and US Federal Communications Commission
Calculating your mobile consumption
Mobile companies generally quote data volumes in megabytes (MB). Vodafone says 10MB is 100 browsed web pages, 300 text-only emails, 12 minutes of YouTube or 100 Facebook photos.
2degrees offer a slightly more conservative usage for 10MB: 68 webpages, 100 emails, 4 minutes of video or 3 music tracks.
The differences highlight the difficulties for consumers in calculating how much data is being used.
TELECOM
"Bills can quickly add up."
Local: prices range from 2c/MB to 10c/MB
Australia: prices range from $8/MB to $10/MB
United Kingdom: prices range from $10/MB to $15/MB
China: prices range from $25/MB to $30/MB
VODAFONE
"Data roaming can be expensive."
Local: prices range from 1.6c/MB to 10c/MB
Australia: $2/MB (only until the end of the month, usually $10/MB)
United Kingdom: $10/MB
China: $10/MB
2DEGREES
"You can use data while you are overseas but it is a bit pricey."
Local: prices range from 12c/MB to 50c/MB
Australia: $30/MB
United Kingdom: $30/MB
China: $30/MB (Hong Kong only)