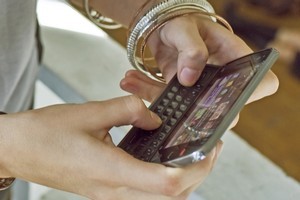 Technology is a fact of life for employees. People embrace it increasingly and can even become linked umbilically to their PCs, iPhones and other mobile devices.
Yet most use only a fraction of the power of these devices and are largely unaware of simple and sometimes free software applications that can increase their personal and business productivity, which can help them shine in the workplace.
Smartphones including iPhones, the BlackBerry and other phones running Windows Mobile and Google Android operating systems are leading the way for many employees.
Low-cost productivity applications for these smartphones can be incredibly simple, such as Cortado Save The Weekend software for the BlackBerry. This software delays any emails that you write outside of work hours and sends them when the next work day begins.
This will be a godsend for employees who access emails on the weekend and feel obligated to reply immediately - as many do.
According to Cortado, 91 per cent of BlackBerry users feel obligated to reply immediately to emails that arrive out of hours.
Other business applications that make iPhone users more productive include InerTrak, a time-tracking tool, Top Three, for managing your priorities, LogMeIn Ignition, for logging remotely into your PC or Mac, and iDisplay, which turns your iPhone or iPad into an extra screen for your desktop.
Anyone who has ever used more than one screen on their desktop PC will appreciate the benefit of iDisplay. It allows you to view email or another programme while working on your main software on another screen.
Gen-I's market and channel manager Aaron McDonald has downloaded a number of applications for his Motorola Android phone that make him more efficient such as ActionComplete, which identifies the location he is at and flags reminders that he needs to action in that location.
Another application he recommends to some clients is Momentem, which allows BlackBerry users to track expenses as well as flag phone calls automatically as billable time and costs.
You may not even need these applications to make yourself more efficient at work if you use your existing software better, says productivity expert Debbie Mayo-Smith.
"There is so much on people's smartphones that is not being used."
She uses hers to ensure that down times, such as standing in queues, are used productively by updating her Facebook page and Twitter account, which are both business marketing tools. It saves her from doing these tasks while at her desk. When Mayo-Smith gets feedback in person at the end of a public assignment she pulls out her iPhone and videos the person to broadcast on Facebook.
She says similar effective uses of the photo and video technology on a smartphone could include getting junior employees to film a potential job so that the person quoting doesn't need to attend in person.
Mayo-Smith, like others interviewed for this article, is a fan of "cloud computing" as a productivity tool.
Cloud computing is a bit of a buzzword, but it's a simple idea. Instead of using software applications based on your computer or storing data on your hard drive, you do this in cyberspace.
It breaks the bondage of being forced to use only a single computer and gives ordinary users access to powerful applications without having to download or install anything.
These applications can be hugely complex, such as Salesforce.com, or as simple as Mindmeister.com, which allows you to create mind maps online. It is a great planning tool if you respond to visuals rather than text. You can also use it for real-time collaboration with others for a brainstorm.
Anything that means you're no longer tied to your PC can make you more efficient. Plenty of applications allow you to connect to your online data or desktop from anywhere.
Cloud-computing applications are available to do most common business tasks. Zoho.com, for example, offers invoicing, customer-relationship management (CRM) systems, recruitment tracking, human resources information and more.
Applications such as these can be beneficial for small companies that don't have dedicated IT staff: you simply sign up to use the product and pay a monthly fee.
Some cloud applications come with huge monthly bills. But others are free to use or have free basic versions; Mindmeister.com allows you to have three mind maps online before you need to pay. Contrast Media chief executive Chris South says Zoho.com has free versions of most of its applications.
Cloud computing isn't just about accessing powerful applications without the need for large servers to house them. It's also about making your data available wherever you happen to be.
South's company uses Google Docs to access Word files, Excel spreadsheets and other Microsoft Office documents, which means staff can call up their work from any internet-connected computer.
"Sometimes it's the really simple stuff that makes the difference."
That includes electronic to-do lists: there are many available for use on desktops and smartphones.
One popular one is Ta-da List, which is web-based but also works on the iPhone. You can even share your list with others.
It also allows you to keep track of things ranging from agendas for weekly meetings to famous quotes you don't want to forget.
There are many other ways to store and access data online including with Apple's MobileMe, which can be found at Me.com, and the latest version of Microsoft Office allows users to interact with their documents either from their PCs or online. Another recommended application is file back-up and syncing software SugarSync.
South's own company provides mobile tag 2D barcodes, which are proving popular in Japan. These barcodes can be scanned by photographing them with a mobile phone, which then downloads information. It could be used, for example, in a hot-desked office.
You could scan a 2D barcode on the wall and it would automatically give you a current floor plan to show you where the person you need to meet is currently sitting.
Employees in smaller businesses and self-employed people will have the most freedom to seek out applications that help them become more efficient.
It is doing your employer a favour to highlight applications that will benefit an organisation, says South - although some IT departments or consultants may feel threatened by staff taking this approach.
Having said that, the IT systems in larger organisations are (or at least should be) designed to interface with a whole range of outside data and applications, says IBM's Denise Lane, NZ brand manager of Lotus Software.
Lane says the best applications are those that users take up organically. She cites an application called Connections on the Lotus platform, which took off because employees were recommending it to each other rather than being mandated to use it.
Smartphone applications are similar: Evernote is proving popular with smartphone users and works like Microsoft's popular OneNote software as an extension of your brain.
You can jot down notes, save pictures, make recordings and sync them with software on your desktop.
It's possible to use OneNote on a Windows smartphone and there is a third-party product, MobileNoter, which works on the iPhone and syncs with OneNote.