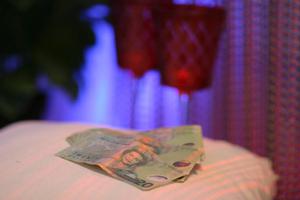 As an anonymous blogger, Belle de Jour became an internet phenomenon with her Diary of a London Call Girl, and a publisher's dream with her bestselling memoirs explicitly detailing her many encounters.
Now, Belle, who has ended six years of fervent speculation by revealing her identity, is hoping to repeat her literary success with the publication of her first novel under her real name: Brooke Magnanti.
Whether her fans will want to read the fictive writings of a 34-year-old research scientist from Bristol, rather than the scintillating memoirs of a prostitute commanding £300-an-hour prices, will be revealed when her book is published by around 2012.
But at least she can go to her book launch. She had to forgo the parties her publisher, Orion, has thrown for her since her debut, The Intimate Adventures of a London Call Girl, was published in 2005, for fear of being found out.
Ms Magnanti, from Bristol, who specialises in developmental neurotoxicology and cancer epidemiology, at the Bristol Institute of Child Health, turned to prostitution to fund herself while completing a PhD in London.
Her decision to reveal her identity was hastened by a former boyfriend who threatened to expose her.
Yesterday she confirmed the move on her blog, maintaining that she was proud of her past. "Now I'm not anonymous ... Belle and the person who wrote her had been apart too long. I had to bring them back together ... It feels so much better on this side. Not to have to tell lies, hide things from the people I care about. To be able to defend what my experience of sex work is like to all the sceptics and doubters ... I stand behind every word with pride."
Patrick Walsh, her literary agent, one of a circle of people who have kept her real name a secret, said that she had been "amused rather than irritated" by the many theories that ranged over her identity.
There had been up to 12 high-profile suspects, including the former editor of the Erotic Review, Rowan Pelling, and the British journalist, Toby Young. Her story was also dramatised in a TV series starring Billie Piper.
Ms Pelling met Ms Magnanti when she commissioned her to write a column for the Erotic Review. She said yesterday: "I think she told us she was a humanities graduate rather than a scientist. I remember thinking it was clear she was smart, and it was clear she had worked as a call girl."
Ms Pelling added her life was disrupted by the media campaign to uncover Belle's identity when it focused on her. She said: "I was heavily followed. They phoned me and my friends. It started off being funny but at the end, when I was nine months pregnant, it wasn't."
Toby Young said he was "flattered" to have been mistaken for Belle. He added: "I always thought it smacked of authenticity. I never thought it was a journalist making it up and I think she writes very well."
- THE INDEPENDENT