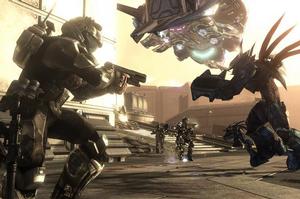 There's nothing particularly angelic about brutal first-person shooter Halo - but it lives up to the name, leading Microsoft's gaming pack by a big distance.
Based on the old chestnut plotline that sees humanity facing extinction, the Xbox classic has produced two sequels and a tidy spin-off, Halo Wars, as well as books, comics, truckloads of merchandising bizzo - and nearly a Peter Jackson movie. And the behemoth Spartan hero, Master Chief, has become an alien-slaying geek God.
In the battle of the consoles, especially with multi-platform titles having become the norm, strong exclusive titles are vital for Sony and Microsoft to push forward. There's no doubt good games - particularly good shooters - attract players to consoles, and while Killzone is one of Sony's winners in the hard-fought first person shooter genre; Halo is clearly Microsoft's champ.
When Halo 3 launched, it banked a staggering US$300 million ($418 million) in its first week - a million in little ol' New Zealand.
Over the franchise so far 27 million copies have been sold and an ISP-pleasing two billion hours of gameplay logged on Microsoft's online gaming service Xbox Live.
With the launch this week of Halo 3: ODST, players shed the armour-plated Master Chief character and get to see developers Bungie telling a very different story in a new way without sacrificing all that makes the Halo series great.
On the timeline, it puts players in New Mombassa, the only city on the planet that hasn't fallen to the invading Covenant hordes. The humans are well and truly losing the fight. "ODST" stands for Orbital Drop Shock Trooper - which essentially means the tremendous power of the Chief is gone, and you're just a very human special forces grunt.
Lead producer on the title was Bungie's Curtis Creamer, who warns hardened Halo-heads a new approach is needed for slaying success.
"I would say if you try to play ODST like you play Halo, you're going to get frustrated.," he says. "You're not as powerful; when you're Master Chief you can just jump into the middle of a battle and feel pretty safe but In ODST you need to be a bit more tactical in how you engage the Covenant.
"I wouldn't say it's necessarily harder, it's just that the strategies you need to win are a little big different. It really changes up the gameplay and feels really good. " After the initial sequence which sees the ODST squad drop into the fight zones in one man pods - but end up spread throughout New Mombassa.
He says the game becomes "almost like a detective story" as the stage-one rookie tries to piece together clues to find the others. As clues are discovered, players skip about in time, becoming other members of the squad and building parts of the pre-Halo 3 story.
"There's a real change of pace and change of feel of what you're doing. In those flashback scenes during the day you'll have more squad mates around you and it slips into the high-action Halo gameplay that everyone is used to. " But the enemy is cleverer, even though he looks identical.
"It's the same group of Covenant," says Creamer, "but there have been changes to the AI, to make them come in and out of cover a bit more, which makes them more interesting to fight.
"The Covenant had to be able to operate in the city as well, it's very open-ended and they needed to patrol in an intelligent way - as well as fight, fall back or retreat in a way that worked properly."
In adapting to the new urban - albeit like post-Blitz London - environment the game feels quite different to play, exactly the effect Bungie was chasing.
"Our goal was to stay away from the big soap opera thing that the Halo trilogy has been and to focus on a small group of characters over a short amount of time," he says.
"It happens in one place and happens over the course of about a day. ODST is a standalone game in some ways - kind of a side-story to the Halo universe."
And have we reached the end of the universe? Not quite. At the E3 games expo in LA this year, after stunning the audience with some gameplay footage from ODST, Bungie revealed a video trailer for Halo Reach.
Though it's still very hush-hush, ODST players will get an invitation to an online multi-player beta of Reach in the near future.