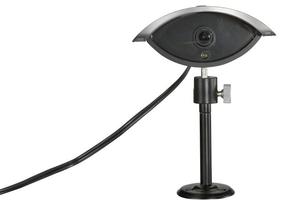 Burglary. It costs insurance companies bazillions, breaks a whole lot of hearts and see's piles of irreplaceable stuff gone forever. Whilst a burglar alarm is a must-have and definitely deters some would-be burglars, the facts speak for themselves. Out of the 59,525 burglaries recorded by the Dept of Statistics in 2008, only 9,596 were reported as being solved.
If these stats sound grim, you can take some small comfort in the fact I've found several easy ways enhance your chances of catching a burglar in the act should they decide to pay your place a visit.
The secret to this miraculous feat lies in some extremely clever video surveillance technology which may help you and the old bill identify and capture any burglars.
Logitech Video Security System
The first clever bit of video monitoring gadgetry comes from Logitech who boast their video surveillance gear can be installed in less than 15 minutes from about $550 depending on configuration.
The secret sauce making this install claim possible is HomePlug technology, which lets the Logitech Video Security System transmit footage over your homes existing electrical wiring to a PC, saving you from the convoluted and painful chore of running cables to where you want to install cameras.
In practice, installing the Logitech Video Security cameras was almost as easy as promised. After installing the Command Centre software on a spare PC, I hooked up the USB receiver, plugging it into the mains.
Installing an indoor camera was as easy as mounting it and plugging it into a spare power socket. Getting an outdoor camera installed proved a little trickier as I had to get a friendly sparky to wire it in. This said, covering my entire home took a few painless hours and I was good to go.
The Logitech Video Security System software proved to be bit of a clever too. Rather than recording hour after hour of useless video footage, it intelligently detects motion within a pre-defined area, recording it directly to my PC's hard drive where it was able to be searched. The smarts didn't stop there either. Motion-activated SMS and email alerts can quickly alert you to security breaches when you're out and about.
Surveillance footage can also be remotely viewed via the internet or even a Windows Mobile powered cell phone. Up to five additional indoor or outdoor Logitech Security cameras are also able to be added, making the Logitech Video Security System easily expandable.
Blue Eye/Red Eye
Where Logitech's video surveillance kit makes no attempt to hide its presence, Mi5's Blue Eye ($595+GST - $795+GST) and Red Eye ($1100+GST) surveillance cameras take a more stealthy approach. Looking like a run-of-the-mill infra-red motion detector used by most bog standard burglar alarms, the Blue Eye also has some nifty tricks hidden up its photographic sleeve.
Setting the Blue Eye up is as simple as charging its built in battery and then wall mounting it where it'll capture images of the area you wish to put under surveillance. Nicer still, it can also be wired into an existing burglar alarm where it can do double duty as an infra-red motion detector and a surveillance camera, but will also operate perfectly happily as a standalone device.
Once the Blue-Eye is set up and detects any motion via its infra-red sensor, it captures images using its built in wide angle VGA camera, storing them on an SD card (a 2GB SD card can store up to 65,000 images). Images can then be easily transferred to a PC or Mac for reviewing using the included USB SD card reader and all images are time-date stamped and digitally watermarked, making them both tamper proof and admissible as legal evidence.
Using a clever low power design, the Blue Eye can run for up to nine weeks off of a single charge and is armed/disarmed using an included key-fob infra-red remote.
If outdoor surveillance is a priority, Mi5 have also developed a durable outdoor version of the Blue Eye called the Red Eye. Housed in a ruggedised case, the Red Eye range can incorporate optional night vision and will run for an impressive five months off a single charge. An optional solar panel can provide a permanent power source, removing the need for recharging.
Home Camera
It may not be as stealthy as the Blue Eye, or as clever as Logitech's Video Security System, but Home Camera's price tag (free at the time of writing) is pretty hard to beat, especially considering the features you get for the price.
Essentially a free download for webcam equipped Windows PCs, The HomeCamera webcam security software lets you use a basic webcam for internet based home or office surveillance, a nanny cam to watch over their babies, dogs, cats etc.
The HomeCamera software detects differences between individual video frames to detect motion, alerting you via email or a mobile phone to any intruders detected.
PCs with the HomeCamera software installed can run up to 4 separate USB connected webcams, all of which can be access remotely by you or anyone else you nominate. Installing Home Camera proved to be a simple matter of dropping into the website linked above, signing up, downloading the software and then going through an installation process that was so idiot proof, that even yours truly managed to get it right.
About the only downside with the Home Camera approach compared to Blue Eye or Logitech approach is the fact that you have to leave a power hungry PC running in order for it to work. Using USB webcams is another limitation.
Where Logitech's cameras are able to be used anywhere there's mains wiring and the Blue Eye's battery means it can be placed almost anywhere indoors, having to used USB webcams tethered to a PC with short cable runs is Home Camera's Achilles heel. This said, for the price, there's a whole lot to like about Home Camera.