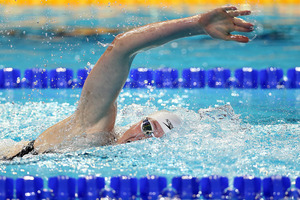 Lauren Boyle impressed with her second victory at the FINA World Cup Asian circuit in Singapore overnight.
The 25-year-old wore down early leader Melanie Costa to win the 400m freestyle in 4:00.78, nearly two seconds ahead of the Spaniard who held off her compatriot Mireia Belmonte for second.
Boyle will now move on to the second of three legs of the Asia cluster with the two-day meet in Tokyo on the weekend.
This is her second win of the series over the distance, claiming the opening round in Eindhoven in August before finishing second to Belmonte at Berlin, where the Spaniard
broke the world record.
It is an outstanding start to the series for Boyle after her victory last night in the 800m freestyle, the event which she won the world title in 2012.
The 400m freestyle final followed a similar course to the 800m on the opening night, with Costa, the world short course champion over the distance, jumping out from the pack to go through the 200m in 1:57, on world record pace.
Boyle eased clear of Belmonte, still 1.5 seconds behind Costa, but gradually whittled away at the lead. She edged in front at the 350m mark and stormed away, showing outstanding pacing with 16/100th of a second separating each 50m split after 28 seconds for the opening two lengths.
Earlier Boyle clocked 4:04.30 to qualify third fastest in the heats behind World Cup overall leader Katinka Hosszu of Hungary and Bemonte.
Fellow Kiwi Cameron Simpson, the Gold Coast-based Cantabrian, was 10th fastest in 22.13s in heats of the 50m freestyle, just missing out on a place in the final.
The FINA World Cup moves to Tokyo on Saturday and Sunday local time, before the final two days of the circuit in Beijing on November 13 and 14.
Day 2 Results, finals:Women 400m freestyle: Lauren Boyle (NZL) 4:00.78, 1; Melanie Costa (ESP) 4:02.24, 2; Mireia Belmonte (ESP) 4:02.70, 3.