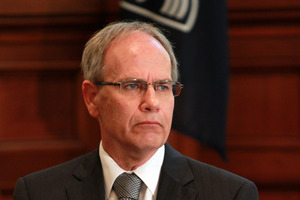 The format was chatty and informal, but the message was the same. Aucklanders find Len Brown's first long-term budget scary on financial matters.
About 150 ratepayers, ranging from farmers to first-time homeowners and community-minded folk, yesterday sat round the table in groups of 12 with one or two councillors and a council note-taker to talk budget matters.
The "facilitated conversations" replace the traditional format of public submissions before the full council because councillors do not have the time to listen to everyone.
Of the 9921 written submissions on the budget, 1676 wanted to be heard in person. Even if they could all stand before the council, finance committee chairwoman Penny Webster said submitters would be limited to one minute each.
The new format had a caring-and-sharing feel about it with submitters drawn into discussion and debate on unlikely topics. Veteran local body politician Colin Davis, of the Orakei Local Board, came wearing his hat as chairman of the Auckland Library Heritage Trust, and ended up talking about cyclists on Tamaki Drive.
"How do I get my two pennies' worth across to councillors on my particular issue?" said Mr Davis after time ran out to have a say on library matters. Others, like Vicky Lacy, of Patumahoe Village Inc, and Brian Titford, a farmer from Waiwera Valley, felt they had got their views across in part or in full.
Themes and messages emerged, particularly during the first of two 50-minute sessions on finance.
The second session focused on transport and general topics. The thorny issue of dog registration fees, which attracted more than 4000 submissions, was given a separate session later in the day.
At one table of 12 people, the issue of rating differentials, the uniform general charge and debt sounded a warning to the council that a lot of work lies ahead to calm strongly held concerns.
The proposed uniform charge of $350 came under attack with Catherine Tuck, of Whitford, suggesting $450 would be fairer and Cockle Bay Ratepayers and Residents Association secretary Maureen Forrester urging the council to set it at the maximum allowable figure of $750.
Another burning issue was the level of debt Mr Brown's council is proposing and lifting the debt ceiling from 175 per cent of rates income to 275 per cent to pay for projects in the 10-year budget. Ben Ross, a new homeowner, found the figure of 275 per cent scary and wanted the Government to put strict instruments in place to control burgeoning council debt.
The table also heard that the debt projections were tied to Mr Brown's current crop of projects and future councils would have to borrow more to pay for new projects.
Said David Mason, of Warkworth: "You don't borrow on your mortgage without knowing your repayments."
The informal budget hearings continue today and next week. The council is holding traditional hearings for larger groups starting on Friday.