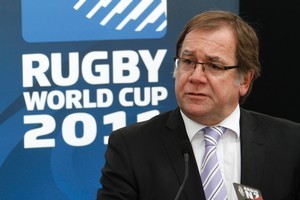 Auckland Mayor Len Brown says his leadership has not been weakened by the Government seizing control of Party Central for the rest of the Rugby World Cup.
Mr Brown has downplayed the significance of Rugby World Cup Minister Murray McCully's meddling in Auckland without informing him.
On Tuesday, Mr McCully held an impromptu press conference at the Cloud on Queens Wharf to announce that the Government was expanding Party Central after Auckland authorities "dropped the ball".
The Herald's political correspondent, John Armstrong, said it was a super-sized vote of no confidence in the Super City by Prime Minister John Key and his World Cup minister.
"They have delivered the ultimate insult. Part of central Auckland will now be run from central Wellington," Armstrong wrote.
Yesterday, Mr Brown said he spoke with Mr McCully after the minister's announcement and accepted that he was trying to help the process of expanding Party Central by invoking emergency legislation.
"The only thing missing was me being down on Queens Wharf with him and from this point on we will be working to ensure clear and dual statements on issues of concerns," Mr Brown said.
Mr McCully said he apologised to Mr Brown, but understood Auckland Council chief executive Doug McKay knew of the pending announcement.
Mr McKay said he was given a heads-up about 30 minutes before Mr McCully's press conference and went straight to the mayor's office in the Town Hall to inform Mr Brown's chief of staff, Phil Wilson.
Mr Brown was not in the town hall at the time and did not learn about the announcement until afterwards.
Speaking to councillors yesterday, Mr Brown said it was no time for grandstanding, agendas or using the Rugby World Cup as a political football.