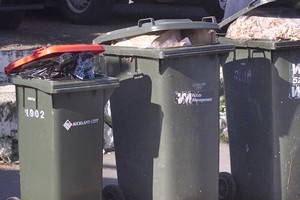 Aucklanders will be putting out a wheelie bin of rubbish with a barcode attached for billing them if a move to a user-pays waste operation is extended to cover the whole region.
At the moment, the region has a mixture of user-pays and rates-subsidised collections using bags or bins.
A wheelie bin with an individual ID will allow its volume to be electronically scanned by the rubbish truck operator and charged to each household.
However, a system where each "lift" at the kerb was billed would give residents more control over their rubbish disposal costs, said Auckland councillor Wayne Walker, chairman of the environment and sustainability forum.
Residents would choose the size of bin suiting their needs and put it out for collection weekly - or fortnightly, if they wished to save money.
An 80-litre bin would cost less to be emptied than a 120-litre or 240-litre one.
Mr Walker said proposals for trimming 40 per cent off the region's waste by 2025 would be out for public comment in September.
Services offered would include other user-pays collections of recycling bins and organic waste bins, for kitchen scraps and plant waste.
"People are paying too much for their waste collection services," said Mr Walker. "If the ideas are accepted, they'll change the face of our waste minimisation effort in Auckland and there'll be tens of millions of dollars saved."
A move to user-pays for all kerbside refuse collections could save about $30 million in rates.
Council solid waste manager John Roscoe said a three-bin system seemed to be preferred in the informal talks with local boards.
A massive education programme would be needed to promote the benefits of the householder separating organic waste and material for recycling, leaving the "non-smelly stuff" for the "inert" waste wheelie bin.
If the council chose user-pays, a likely option was to charge by "lift" - based on the size of the bin rather than the weight of rubbish.
A householder's bill would depend on the number of times the bin was emptied.
Paying by quantity of waste put out for collection was consistent with the Waste Minimisation Act.
Charging for rubbish collection by weight was a less likely option, he said, because of difficulties getting accurate bin weights at the kerbside.
It was simpler to attach an ID tag to the bin so the rubbish truck could automatically record the size of each bin and how many times it had been emptied and charge the household accordingly.
Mr Roscoe said any profit from charges could be used to offset the costs of other waste services such as kerbside recycling and education.