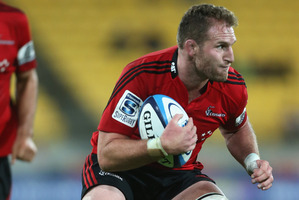 The bulging casualty ward is perhaps the place to start when it comes to trying to understand the lack of conviction from New Zealand's Super Rugby franchises.
Of the 32 players who toured Europe last year with the All Blacks, almost half have not played, barely played or sporadically played this year because of injury.
Tony Woodcock has been a ghost at the Highlanders thanks to a hamstring strain; Charlie Faumuina is out for the campaign with knee damage, while Keven Mealamu has only just returned from sabbatical. Luke Romano missed more than a month with a rib injury, Victor Vito has barely been on the field, Kieran Read missed the African leg and more with a damaged toe while Richie McCaw won't play at all. Tawera Kerr-Barlow has a broken jaw, Daniel Carter has missed more than half the games through paternity leave and injury, Israel Dagg has been on-off with a hamstring complaint and Cory Jane and Tamati Ellison are serious long-term casualties.
That does much to explain why Australian franchises are enjoying a rare period of domination in transtasman clashes. For all the talk of their conference being softer and less intense, the Australian franchises have looked more cohesive, better organised at the breakdown and more prepared to be conservative and patient.
They have improved, no question, but arguably they look better than they really are because the New Zealand sides have regressed as a consequence of missing key personnel. It also does much to explain why standards at the Chiefs, Crusaders and Hurricanes have not consistently been as high as they were last year.
Take significant numbers of the best players out and every franchise will suffer. International players can't be effectively replaced - lose them and the quality is eroded; crucial decisions under pressure don't get made. The little touches of magic that buy an extra metre or change the angle of the attack or win a critical turnover - they dry up.
Had Read and Carter been on the park against the Force, might the Crusaders have won? The Hurricanes, had Jane not damaged his knee so badly, would probably be higher up the table than they are.
The Reds prove the theory in reverse. They are getting close to their title-winning form now that Will Genia and James Horwill have finally recovered from long-term injuries that saw them miss most of last season.
There is depth of talent in New Zealand but not enough that almost half the national squad can be removed and the quality of Super Rugby performances remain.
But that's not the full explanation for the current malaise. As Blues coach John Kirwan rightly mentioned, the prospect of playing against the Lions is a huge carrot for Australian players. It was the same in New Zealand in 2005 - everyone wanted to be involved and knew they had to perform in Super Rugby to win selection.
That's not really how it is in New Zealand this year. For all the success Steve Hansen has enjoyed since taking the head coaching job after the World Cup, might he now be guilty of sending senior players, in particular, strong signals their All Black places are already secure? Is there a level of comfort for some experienced campaigners that they know Super Rugby form won't count against them?
It's almost accepted these days that Ma'a Nonu, for instance, rarely delivers for his franchise but always delivers for the All Blacks. It's not that anyone has been guaranteed selection but, when the All Black coaches have already been around the franchises talking to those on their radar and a leadership group has met to discuss preparation plans for 2013, the edge of uncertainty is removed.
Hansen, as a devout believer that experience is critical, accepts there is leniency and patience afforded to those who have proven themselves in the test arena. No one will be discarded on a whim.
Yet this notion that senior players don't necessarily need to perform well in Super Rugby is not one that he'd like to encourage. If there is indeed a comfort blanket available, then it's one that will be whipped away after August this year.
"Form can be tricky to gauge at times," says Hansen. "Sometimes things can run interference - something may not be quite right which affects the form of an individual. They might be playing for a poor team or they may be having problems in their lives and that is fixable.
"We [All Blacks] have shown that we can fix things that are fixable. But what we have got to make sure of is that we are not dealing with players who have lost their desire to be the best in their position. We have to make sure that players still want to improve, are ready to evolve and adapt and keep giving."
Super Rugby form will almost certainly become more of a focus next year, in that senior All Blacks not delivering will run a higher risk of being assessed as past their best.