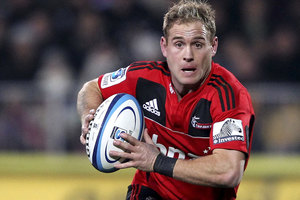 He has been the beneficiary of two controversial decisions in two weeks but Crusaders halfback Andy Ellis would be happy for the television match official's powers to be increased.
Ellis's try in last night's 38-24 victory by the Crusaders over the Force in Christchurch, which cemented fourth place overall and a spot in the playoffs for his side, was just as debatable as the one the previous week against the Chiefs in Hamilton.
It was again scored in a pile of bodies, but this time there was a hint of a double movement from Ellis himself, rather than the momentum being provided by a Sam Whitelock shove, as happened at Waikato Stadium.
A cheeky smile from Ellis after TMO Vinny Munro gave him the green light at AMI Stadium might have suggested otherwise, but the halfback insisted it was a try, although he did concede it was a "50-50 call".
"I think I did, I think I was there," he said. "The ball was right on the line.
There were no hands or anything under it. It was just a matter of whether it was there or not and as everyone got up I think it was obvious that it was."
Another TMO call in the match which went the Crusaders' way was for Israel Dagg's first-minute try in which he appeared to lose control of the ball in the act of scoring.
The regularity of recent controversial TMO decisions - the Hurricanes beat the Chiefs 28-25 after the final hooter in Wellington on Friday after hooker Dane Coles' try was awarded - means the fourth official has come under scrutiny like never before.
At the moment he can rule only on whether the ball was grounded, but, under an IRB experiment, will be given greater powers in this season's Currie Cup in South Africa and that's likely to be rubber stamped in Super Rugby sooner rather than later.
Although greater TMO powers might not necessarily have changed the above decisions, Ellis, for one, is an advocate of using technology to get things right.
"I've always said that," Ellis said. "I love the league stuff. You can get your decisions right all the time. If there's a forward pass 5m out, why not get it right, why not go upstairs and make sure? And then there's no controversy. I know there's probably a lot of traditionalists that say no, but it's in cricket and coming into football, with the goal-line technology. When you're talking about professional sport and so much on the line, it's a bit of a no-brainer."
Having led the Force 32-3 at halftime, coach Todd Blackadder elected to rest captain Richie McCaw and playmaker Dan Carter after the break and Ellis followed them to the sideline around the hour mark. It led to a disjointed second-half performance in which the Force scored three tries and made the Crusaders look a little ordinary but there is no doubt the focus had shifted to next Saturday's qualifier at AMI Stadium, now confirmed to be against the Bulls from Pretoria.
"We didn't take a lot out of that game. The feeling or the attitude in the shed was 'this is the start line now, we're ready to go. This is what we've worked so hard for', so it's all on now. We almost didn't reflect on the Force game, just knowing what's ahead of us and the challenges, we're really going to have to get up."
- APNZ