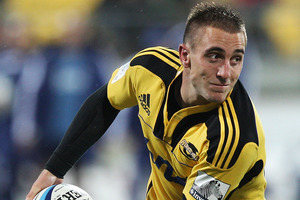 Hi Kamo
Enjoy your column. There are a few laws that seem to have different interpretations, forward passes for one but the tackled ball when a player is not held confuses me. [Richie McCaw] against the Reds last year was pulled back and lost the game but his case didn't seem any different than what happens every game with no whistle and then bingo, someone gets stung. I thought that if the ball hits the ground in a tackle, even if not held, it had to be released and played by a player on his feet, but from what I see it is not always ruled this way. Players around the ruck and not bound should be behind the back foot, how often do you see a pick-and-go that goes nowhere because the ball carrier is met by an opponent that must have 10m long arms if he was onside. On the goal line that's okay, but not in the open field.
Bob Hanrahan.
Bob, I find it very hard to compare a rule interpretations in one game with that in another.
The circumstances may appear the same but are often quite different and whether we like it or not, there are variations to some laws, but the good players quickly cotton on to this or indeed have studied the referee and his style before the game and know what to expect. It is my understanding in the tackle, if the ball hits the ground but not the player and he is not held, then it is play on. If in the same circumstance the tackled player is held - he must let go of the ball before resuming play. Your point regarding defenders not being behind the hindmost foot at ruck time is a good one. We have seen some improvement in this area but it still does my head in, also. I wonder if an easy solution at the top level isn't to add more lines across the field to help the referee and his assistants judge the offside line?
Do you think that England and Wales etc need to adopt a Super rugby company like we have, so they rebuild their rugby up to the standards we play, as I think a lot of teams are not playing as well as they did at the World Cup, which was so watchable? Another thing, do you think we should go back to touring with two sides, a test team and a midweek team?
Kevin Field
Kevin, from what I know of the English and Welsh competitions, and I played in Europe for four years with Gloucester and London Wasps, they do operate their clubs or regional sides like our Super Rugby franchises, ie one town, one team. I think this is a great structure for them as they have the history of the clubs behind them with the ability to recruit the best players possible under a salary cap. At the club level the competition is very tribal so transferring that intensity and game structure has always been the key for me to their international success. Sometimes this works, sometimes it doesn't. It is really important for world rugby that countries like England and Wales compete and at times beat their counterparts from the Southern Hemisphere .
All Black tours again would be great and now the the NZRU are offering them to teams coming here - unfortunately both Ireland and France (next year) have turned us down - we may start accepting some ourselves. The NZ Maori are touring England at the end of this year - at the same time the All Blacks are in Europe - and are playing three club sides.
Hey there Kamo
Hope you have time to answer my question.
What does Andre Taylor have to do to get in the All Blacks? Again against the Crusaders he was one of the best players on the field and I look at him and wonder how brilliant he would be behind an ABs pack?
Kevin McNally
Thanks for your question Kevin and you are spot-on regarding Taylor being one of the standout players in this year's Super Rugby competition. He should be very proud of how he has played to date. What does he need to do to gain All Black honours? Quite simply, he must keep doing what he is doing, never letting his standards drop and continue to perform in the pressure games like the one against the Crusaders or tonight against the Chiefs. He also must have patience. In many cases it takes more than one good campaign to make an All Black and we have to acknowledge the depth New Zealand has in his fullback position.
Dear Ian,
Congratulations on making the switch from AB great to great rugby commentator-columnist. Love your work.
As rugby laws are back in the spotlight (when are they not?), I'm keen to get your thoughts to spice things up.
Now that we have assistant referees, rather than just touch judges, how about getting back to lineouts being a genuine contest for possession between the tall men. As I recall it, one of the reasons for allowing lifting was that lineouts had become pub fights. With extra pairs of eyes on them, it should be possible to have relatively clean lineouts decided by unassisted leapers.
The way refs police the quick tap penalty really irks me. The side awarded the penalty should be able to extract maximum advantage from it by taking a quick tap anywhere within a 5m-radius behind the penalty spot. I reckon we would see a faster game, more ball in play time with less kicking, fewer lineouts and more tries. Imagine the delight of our current crop of first-class halfbacks being given this extra space to run in.
Cheers Derek Anderson
Winterless Far North.
Hello Derek and thanks for you kind feedback. I have a real passion for our game, which I hope comes through, and a love for the area you live in - the Winterless North. With regards to your lineout question, I really don't think we want to go back to the bad old days of unassisted lineouts. They weren't that much fun to be involved in and believe me it would take more than three sets of eyes to pick up all the shenanigans that used to go on.
Our game has improved greatly because of assisted lineouts, as now the daisy-pickers in the backline attack with confidence from that set-piece. It's here to stay.
Currently, Super Rugby referees are allowing teams to take quick penalties providing it is from behind the mark, in sight of the referee and within one metre of the spot, not five as you recommend.
It is these last two points that teams are normally pulled up on. New Zealand teams tend to regroup when awarded a penalty and plan their attack from a set phase - where statistically they have more chance of breaching the line and scoring.