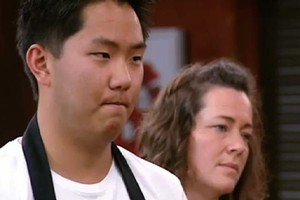 It seems fitting that in the week leading up to Easter one of the main talking points has been whether Cameron would rise again. Like Jesus, it seems unlikely. Bringing eliminated contestants back is always contentious.
But that was before Simon Gault put doubt in my mind. Quoted in a story this morning about a bring-back-Cameron campaign, Gault said "You'll have to watch and find out."
Of course, you can't take any of this at face value. I recall Gault getting one over a journo in the lead up to last year's final - with the resulting story stating that Kelly Young - not Brett - had taken out the final.
As much as I would love to see Cameron or Fiona in the final, they're gone and it should stay that way.
But it does raise questions about whether the elimination process is as it should be.
Particularly in Fiona Read's case.
Read being turfed out on the whim of a few sugar-high tweens was wrong. Sure, it's not a five-nights-a-week show with time to take the bottom two though to a second-chance elimination, but there must be a better way.

It's also unfair - at the final-five stage - not to be judged on the same dish, or an invention based on the same ingredients.
How do you judge Michael's salmon against TLee's rib eye? Or Jax's brioche burger against Stu's flounder? I guess you get guest judges in.
That said, tonight's result was fair. After a great start to the competition, Michael Lee was routinely the least impressive performer of those that remain.
We've all got that one dish we do. The money meal. Old faithful. The impresser. The dish you know you can do well and that you resort to in emergencies.
These days, it would be the dish you use for the Masterchef audition. You know, cause suddenly we're all chefs. Cook a great meal for a group of friends and it's "you should go on Masterchef!"
But as Simon Gault tells us regularly, anyone can follow a recipe. It's what you come up with sans your collection of Jamie Oliver books that counts.
I've got a couple of Jamie's books, plus River Cafe, The Silver Spoon and my favourite - anything by Nigel Slater. So if I'm having people over for dinner it's not usually a disaster, but I don't think I've ever had a dinner party when I've made something of my own creation. While I can pull the wool over my guests eyes for a couple of meals, if I was to go on Masterchef I'd die a death as painful as that crayfish Karyn Fisk dealt to in season one.
Perhaps it was the same for Michael Lee. I got caught up in the hype when he made those braised ribs in the audition, but his invention test efforts never really took off.
Having said that I think they made a bit much of his geographical faux pas, and I'm still not entirely convinced they made it crystal clear in the pasta challenge that the theme was Italian.
It was an odd episode tonight. Watching it a second time I realised not much really happened. Thank god, and I suppose Jesus, for head chef Volker Marecek.
Down in the bowels of the Langham, the feared Volker was running through the gourmet room service menu. The guy is a star. If he had a cooking show I'd be setting the Mysky, but not for the food. I could listen to him bark for hours.
"You think zis shzit I can serve my customers?!"
It was clear the moment Michael said his worst of the five dishes would be the salmon tortellini, that Michael would be making the salmon tortellini.
"I'm thinking, oh no."
Stu too drew the short straw.
"You make ze flounder."
At this point I'm thinking they'll all get dishes they don't want, but TLee (steak) and Nadia (chook) seemed pretty happy. Jax started off happy but was the only one to get a "good luck" from Volker, prompting the first of many comical double-take facials.
It becomes clear that the task was going to be harder than we first thought. Stu had to fillet the flounder ("You think this shzit I can serve my customers?") and TLee had to cut steaks off a hunk of meat that was bigger than her.
With so much to do, you'd think everyone had to move a lot, but Volker kept insisting that everyone "have to move a little bit". Strangely the person in the kitchen who seemed most stressed was Simon Gault.
Volker continued to bark out orders, but tended to get about two thirds of the way through a sentence before finishing it with his eyes or a shoulder shrug.
Although, while chastising Michael (again) he managed to complete one particular sentence that offended Jax. "You have muscles, don't be a woman, it's simple."
"I resent that," Jax said, holding a very large knife.
Volker gives a wry smile as he tells her to hurry up - it's the closest he'll get to an apology.
The phone rings, and everyone looks at everyone else in a scene reminiscent of The Young Ones - "There's someone at the door, Neil!" But it's just Simon having a laugh. Do that in real kitchens too do they?
When the phone goes for real, it's Antoine's Tony Astle. Michael is well aware who he's cooking for but Gault makes sure. "He's a god of food, I did my apprenticeship with him." Which I guess makes Simon a Jesus of food.
Up in the suites Ray and Josh were waiting for the guest judge to give their opinion before giving their own. Polite? Sure. But that's never stopped the judges offering their opinion first when they're in the Masterchef kitchen. The regular judging trio seem more forthright when they're not split up.
It's time for Jax to get the call - from Rex Morgan ("he's a rock star!"). She can't stop shaking. "Sometimes life is a bitch," Volker adds, helpfully. Would that be a weak bitch with no muscles, Volker?
Jax gets more and more likeable. Where once her comic facials and cockney gags were a little tiring, she's warmed up. Perhaps she's more relaxed now she's realised taking the title is a real possibility, as she said last week.
Jax is convinced the judges will enjoy their burgers, and Rex agrees. "It's well executed, I mean, you know, the burger's got flavour," he says, appearing slightly miffed at being flown up from Wellington to taste a hamburger.
Gault's post-phone-order chef-hypes are getting shorter with every chef. "Wow" he says to TLee who's going to be cooking her steaks for Clooney's Des Harris. He trained at Logan Brown, whose chefs/owners, we learn, are called Al Brown and Logan Brown.
TLee's prep seems to go quite well and I wondered why her prep coverage was so short.. until the crash came. She banged into something and lost her hotbox.
"I'm going to have to re-plate this." Ya think?
Poor thing. Obviously, perhaps in solidarity with her food, she was crushed. But she covered it with that beaming smile, even if the tears around her eyes hadn't yet dried.
Stu didn't have any problems, as you'd expect from the newly crowned hot favourite. Nadia overcooked the chicken, but considering she had to follow a recipe, let alone do it with Colonel Klink hovering over her, that's a success. Perhaps now that she seems able to follow direction again she might make the final after all.
But of course, Michael won't. People say - him included - that he's done well for someone of his age, but when you see what the 8-12-year-olds are coming up with on Junior Masterchef (Mondays, 8.30pm, Prime), the age card is a hard one to play.
Michael should be happy full stop. He got a golden apron, he made the top five, and he dropped out of Rangitoto College.
"Your audition dish won you the golden apron and got you straight through to the top 11," said Josh. "And that is how we will remember you."
Episode 10
Best line: "Everyone you guys have to move a little bit." Chef Volker repeatedly understates how much people do in fact need to move.
Worst line: "The ketchup was made of love." Jax serves up a dish of eww.
Current favourite: Stu Todd, Nadia Lim