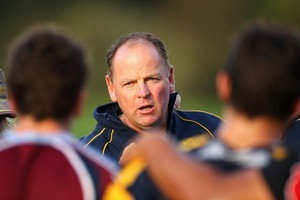 Brumbies coach Jake White says he wants to return to South Africa to guide the Springboks again - but not for at least another four years.
With Springboks coach Peter de Villiers expecting to be sacked after his team's Rugby World Cup quarter-final exit at the hands of the Wallabies, speculation has risen that White could resume coaching the national team he led to the 2007 World Cup title.
But White was quick to squash that yesterday, saying he was committed to the Brumbies, having taken over at the Canberra-based Super Rugby franchise following their dismal 2011 season.
"I've got a contract here in Canberra, I'm enjoying putting the programme together with a great group of staff and players and I'm definitely not leaving," White said.
"I will not turn my back on South Africa but for at least the next four years I am 100 per cent committed to leading the Brumbies and returning Super Rugby success to the people of Canberra."
De Villiers said he had no regrets after his colourful and at times controversial four-year reign in charge of the Springboks.
But at what is likely to be his final appearance as Springboks coach, he sidestepped any possible controversy this time by saying he had "made peace" with the refereeing of New Zealand's Bryce Lawrence, which South Africa believes contributed to its defeat in Sunday's quarter-final and its early exit.
Instead of lingering on Lawrence, an emotional De Villiers instead paid tribute to retiring 100-test veterans John Smit and Victor Matfield as green and gold-clad supporters packed out an airport arrivals terminal to welcome the disappointed Boks back from the World Cup.
De Villiers said the welcome from fans, even after the World Cup failure, was humbling.
"We didn't achieve what we wanted to," De Villiers said at Johannesburg's O.R. Tambo airport. "We gave you a lot of hope when we left. We never fulfilled our own dreams. We never fulfilled yours ... we let you down. But we never did it on purpose. We went down fighting, fighting for our country, and that's what made me proud."
Turning to Smit and Matfield, South Africa's longtime leaders and two of its most successful players, De Villiers said, with his voice breaking: "What you meant for this country, nobody will ever, ever take away. We will always honour you. You will always be my heroes."
The coach said he had not formally resigned his role, but his contract is not expected to be renewed when it expires in December.
"The writing is on the wall. We read it and we move on," he said.
South Africa is also set to lose a golden generation of players with captain Smit and vice-captain Matfield having played their last tests, and the international careers of fellow 2007 World Cup winners Fourie du Preez, Danie Rossouw and Bakkies Botha looking set to end, too.
South Africa's first non-white rugby coach, De Villiers was often at odds with rugby bosses in South Africa and abroad with his outspoken and direct style.
But he rode the controversy and the criticism, kept faith in Smit and Matfield, and took South Africa to a series win over the touring Lions, a Tri-Nations title and the top ranking in the world in 2009. His players have always been fiercely loyal.
- AAP