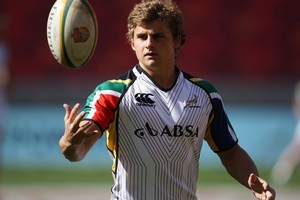 At the 2007 Rugby World Cup, JP Pietersen was a 21-year old striding on to the biggest stage in the sport. Now Pat Lambie is a 20-year old taking his first steps at the same level. What had Pietersen been telling his Sharks teammate to expect at the World Cup?
"I think I must ask Pat for more advice, actually," laughed Pietersen. "He's so cool and calm, it's hard to see him as a guy who is ever under pressure. He's very mature for his age. He's probably more mature than I was at 21. At the moment he is asking me small things about the game plan, but I should speak to him more. I would love to have his calmness."
It takes a fair amount to fluster Lambie, a young man who has taken to the top flight with such aplomb that it reminds one of Jonny Wilkinson. And Pietersen, whose tackle in the quarter-final against Fiji will remain the stuff of South African World Cup legend.
Pietersen covered for Lambie when he was injured early on against the All Blacks in Port Elizabeth, moving to fullback and performing admirably.
Lambie, who was tackled into touch and fell awkwardly, damaged his AC joint and it was feared he would be out of the World Cup. Yesterday he confirmed he is fit for purpose.
" It's coming along nicely, getting better and better each day. I'm able to do some push-ups and am taking a bit of contact on it now, hitting a few tackle bags from last Monday. I'm running comfortably and am available for selection. I don't know if that necessarily means I will get picked, though," said Lambie. "It's awesome [to be at the Cup], I'm seriously happy to be here.
" I'm not nervous, not really - not yet. Maybe closer to the time when I hopefully get on to the field. I definitely do get nervous; some butterflies in the belly are not a bad thing."
If Lambie has made up his mind where he would like to play, he is keeping his preference to himself. "In this squad I'm considered a utility back, so where I'm needed. That is probably a good thing, I think it helped me get selected for this squad. Eventually I'd like to settle down in one position, wherever that is."
It is hard to believe he will not end up in the 10 jersey for the Springboks eventually. His talents are better suited to the role, his 80 per cent success rate in kicking during Super 15, his step, the vision, the composure - he was born to be a 10.
"I don't think I'll be given the kicking responsibilities because of the other guys in the team, but if I do, I'd love to take the kicks. I'd love that responsibility. In the future it would be a role I would love to have in this team. Kicking is a large part of our game and it will be at this World Cup. Applying pressure is going to be key and kicking is a big part of that. If we do it accurately we can apply that pressure, and tries will come from those mistakes."
A Kiwi journalist listening in almost flustered Lambie. How was he going to handle being a pin-up with his curly locks and cutie-pie smile, and all the girls running after him?
"A what? A pin-up? Ooooh, no, no. I have a very nice girlfriend, so I'm not worried about that, thanks."
- Independent (SA)
SOUTH AFRICA v WALES
8.30pm, Sunday, Wellington