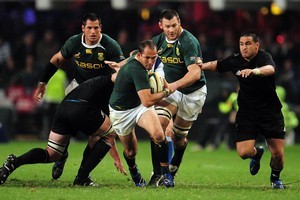 The recent November tests gave some indication of the key challengers ahead of the World Cup.
Gregor Paul runs through the sides ranked 2-11 by the IRB and assesses the threat they pose.
1. Australia
The good news is that the Wallabies remain a hit-and-miss side and they still can't scrummage. The bad news is that when they are on, they are really on. As the All Blacks discovered in Hong Kong, this Australian side has the potential to play breathtaking rugby. When the forwards get stuck in, throw themselves into the collisions and provide quick ball, their backline is the best in world rugby. This was a point Ma'a Nonu conceded at the end of the Grand Slam tour.
"They are the best in the world at running lines and those moves where Quade Cooper throws long passes and Kurtley Beale is awesome."
They destroyed France in the last week of November and they equal the All Blacks at playing high tempo rugby from touchline to touchline.
Where they are vulnerable is in their ability to play territory and possession and stand up to relentless physicality.
England beat them up at Twickenham and, when the space is closed down, the Wallabies don't have the players to stand firm. Their scrum is weak and under pressure Cooper is prone to making mistakes. He and Giteau lack Dan Carter's composure and tactical nous.
2. South Africa
They remain a great knockout team. While the game has changed, become more fluid and weighted towards sides that can use the ball, the World Cup will be a little different. The business end will be nervy, tight and most probably quite conservative. Those teams with a powerful and organised pack and can pressure opponents will do well. Teams with a strong set piece, structured defence and strong kicking game will do well. They might not win, but they will be hard to beat.
South Africa tick all of the above boxes and, if they can add some creativity and better handling, they will be formidable.
The big struggle lies in what to do with captain John Smit. He's an inspirational skipper but not the best hooker in the country - that's Bismarck du Plessiss, such a major influence they would be crazy not to start him.
How they resolve this issue will have a massive bearing on morale. The other good news for the Boks is that they will welcome back Fourie du Preez at halfback and Jaque Fourie in their midfield and it would be no surprise to see them retain their title.
3. England
Played well against the All Blacks in November and then beat the Wallabies to suggest they are on the rise and a serious contender. They have a superbly physical pack and, with Andrew Sheridan leading the charge, the most destructive scrum in world rugby.
Courtney Lawes is the new Martin Johnson and in Toby Flood they have a maturing first five who showed composure in the autumn tests. Ben Foden can run from fullback and challenge defences and Mark Cueto and Chris Ashton are wings who do the right thing all game.
What made England more dangerous was their willingness to move the ball and attack space. But they are still prone to panicking with possession and only a couple of their forwards are comfortable on the ball. They are at their happiest when the game is an arm-wrestle, yet they are a long way behind South Africa in those contests.
If they persevere with a more expansive approach, they could be an interesting threat. They need to sharpen some of their basic skills, improve their ability to defend the width of the field and not be so eager to kick ball upfield believing it will lead to something.
4. Ireland
For 30 minutes, the Irish had the All Blacks scrambling. The Irish forwards were pilfering ball, the backs had direction and thrust in their attack and they defended so well, the All Blacks couldn't find any space. But in the 10 minutes either side of half-time, the All Blacks hit them with three sucker blows that wrapped-up the game. The ability of the All Blacks to strike so effectively epitomised the difference between the two teams.
The Irish are organised, passionate and challenging but they are missing a clinical edge. They make holes, they get close but they have this flaw that leads them to make mistakes at critical junctures.
Whether it's excitement or a lack of belief, coach Declan Kidney isn't sure and it's hard to believe the Irish will have cured this by the World Cup. Without that edge, that killer instinct to convert pressure into points, Ireland will remain a good but ultimately beatable side. They will compete, cause problems but not do enough to topple a big gun in a knockout game.
5. France
The French are all over the place and almost impossible to get a handle on. They won a Grand Slam in March and then fell to a record loss against Australia in November. Coach Marc Lievremont changes his side on a whim and one week they play without a care in the world, like the French teams of old - and the next they are kicking it away, determined not to play.
What state they will be in by the World Cup is impossible to tell but clearly no Kiwi is going to make the mistake of under-estimating them. They have a tight five that can dominate and control the ball and, in Thierry Dusautoir, they have an inspirational and gifted leader. Their backline is powerful, possibly lacking some flair, but good enough to create and score tries.
The personnel are in place - it is all down to Lievremont making the right selections and enforcing the right strategy.
6. Scotland
The Scots are an enigma in that they look the weakest of the Home Unions yet have pulled off four of the biggest results in the last two years, beating Australia, South Africa and Argentina twice in Argentina.
They lack depth and therefore it's hard to believe they can mount a realistic challenge to go all the way. But clearly they have the ability to win one off big games.
Unlike the Welsh and the Irish, the Scots have managed to close out on the big occasion and the belief they showed in beating the Boks was impressive. There was no hint of panic. They played cleverly and accurately, giving the Boks no chance to snatch a late win. Their inability to score tries is a problem but they are happy to grind. The loose trio, especially open side John Barclay, is a class act and they have a tight five that is big, mobile and solid at the collision. Given their track record for pulling off unexpected wins these last two years, the serious contenders will be keen to avoid the Scots.
7. Argentina
The Pumas are not the same potent team as four years ago. They have lost some of the momentum as a consequence of too little rugby against top opposition. They will pose the usual problems at scrum time and will work the driving maul.
Their pick and go work will be exemplary as well and the lineout will be secure. The Pumas won't let their standards drop in these areas. But it would be a surprise if they come out here and pose the same threat with ball in hand.
They miss the brilliant Agustin Pichot at halfback and Juan Martin Hernandez has barely played since 2007 because of injury.
Rugged and defensively strong, the Pumas don't have much more and they might not escape from their group this time round.
8. Wales
Like the Irish, the Welsh had the All Blacks under pressure for periods of their recent encounter. Also just like the Irish, the Welsh were put away relatively easily in the end, with the All Blacks scoring five tries.
There is rugby intelligence in this team and some gifted ball players. Most of the forwards are happy to have the ball and they move it about with confidence. The only problem for the Welsh is that they are lacking strike runners - big, powerful men to give them potency. Jamie Roberts is almost there but he lacks the pace to be deadly. Shane Williams is invariably injured and the teenagers they keep playing on the wing are all promising but not fully equipped just yet. How Wales can make the giant stride from where they are to something more serious is hard to see.
Their tight five lacks bulk and, while they can play with width and continuity, much of their attack was lateral in November.
They need Lee Byrne, James Hook and Roberts to be at their best and even then they have the look of a gutsy quarter-finalist who will bravely disappear.
9. Fiji
If the weather holds in New Zealand next September and the Fijians can settle at the tournament, then they will be more than a little tricky. They were good enough to draw with Wales in November on a frosty Cardiff night and probably should have won. The current law interpretations suit them as they can recycle, keep away from set pieces and keep the game moving.
Wales didn't know how to deal with Fiji - they played without structure, simply doing things that came naturally and it can be thrilling and effective. Any established nation playing them will know the best way to go is to slow things down, keep the ball away from them and try not make mistakes that let Fiji run at a broken defence.
10. Samoa
Their current world ranking is a false position as the quality of Samoa in November suggests they are going to be a serious handful at the World Cup. They rattled England, probably should have beaten Ireland and lost to
Scotland by a point - but most of the Samoan team would have been shell shocked by having to play in Aberdeen where the snow was piled on the side of the field and the temperature, with wind-chill, about -10 degrees.
The acquisition of Kahn Fotuali'i has given them tactical direction at halfback and Seilala Mapusua proved he was the best defensive second five in world rugby in November.
They have a much improved tight five - most of whom are holding places in big clubs - and Paul Williams has added solidity and goal-kicking from fullback.
If they can get access to all their players, there is a feeling this Samoan is ready to storm another World Cup.