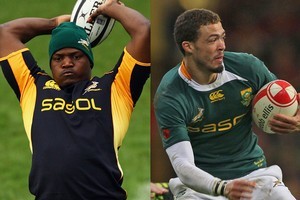 Chiliboy Ralepelle, left, and Bjorn Basson failed doping tests during South Africa's tour of Europe. Photo / Getty Images
Springboks coach Peter de Villiers is worried his entire squad may have taken a banned substance that has seen two players fail doping tests.
Bjorn Basson and Chiliboy Ralepelle were sent home Monday and suspended for failing drugs tests after the side's match against Ireland two weeks ago.
The South African Rugby Union said the players tested positive for the banned stimulant methylhexaneamine after the 23-21 win at Ireland on Nov. 6. The players can still have their "B" sample tested.
According to reports energy drinks that the side use have been sent for testing as de Villiers fears that more players will fail drugs tests.
"We don't want to put the players at risk. If there is something that we are taking as a squad that might have caused this then we must find that out now," de Villiers told South African broadcaster Supersport.
"We have done quite a bit already, we are busy sending stuff for testing. Obviously we have to look at what might have caused this and we don't want to put the players at risk. If there is something that we are taking as a squad that might have caused this then we must find that out now.
"When I informed the two players that they had been tested positive they were both extremely shocked and disappointed. The rest of the team were also gutted when they heard. I was informed of this at 2am this morning, and now we must follow the correct processes as laid down by the International Rugby Board."
The 23-year-old Basson was selected for his second Springboks tour after scoring a record 21 tries in this year's Currie Cup playing for Griquas. The winger was due to return home anyway after injuring his ankle in Sunday's 29-25 win over Wales, his fourth test appearance.
Ralepelle, a hooker who has won 18 caps, came on as a substitute against Wales on Saturday. He was also the first black player to captain the Springboks when he led them against a World XV in 2006.
Basson and Ralepelle were told on Sunday night they had failed the random drugs test.
Springboks team doctor Craig Roberts confirmed that both Basson and Ralepelle were on medication for flu symptoms.
"We need to get to the bottom of this as quickly as possible. It could have come from many different sources. We're going through the process of looking at all the possibilities and exhausting them one by one," he told the Independent.
Beginning next year, the World Anti-Doping Agency will loosen the classification of methylhexaneamine to the "specified stimulant" list, which covers drugs that are more susceptible to inadvertent use and can carry reduced penalties.
Sanctions for use of the drug can be reduced if athletes can prove they did not intend to enhance performance. Penalties can range from a warning to a two-year ban.
WADA said methylhexaneamine was sold as a medicine until the early 1970s and has now reappeared in some nutritional supplements and cooking oils.
- Herald online/AP