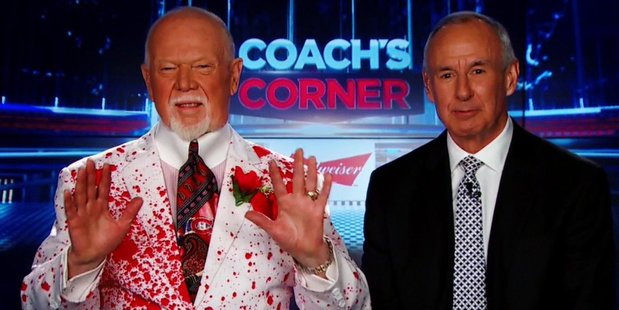 Canadian NHL commentator Don Cherry ins't new to flaunting overly-flamboyant suits during his 37-year commentary career.
However, the 83-year-old has caused somewhat of an online stir over the weekend by donning a blood-splattered jacket during the clash between Montreal Canadiens and New York Rangers in Game 6 of the first round Stanley Cup play-offs.
Ron and Don: Max Pacioretty is getting the Canadiens going in Game 6.#StanleyCuphttps://t.co/5tm2KrRgOg pic.twitter.com/cyyMvv0ePA

— Sportsnet (@Sportsnet) April 23, 2017
Twitter, as per usual, was quick to react to Cherry's choice of attire.
I think this suit has the blood of all the names Don Cherry has butchered over the years. pic.twitter.com/hNsnDNXT7h

— Wyatt Arndt (@TheStanchion) April 23, 2017
When you have a murder at 8 and work event at 9 pic.twitter.com/nqgkL5nZYE

— Rawan (@rawan) April 23, 2017
Looks like Don Cherry has been browsing Amazon's suit collection... pic.twitter.com/WAvNM4d1xW

— NHL Daily 365 (@NHLDaily365) April 23, 2017
'You should see the other guy' - Don Cherry's Suit pic.twitter.com/CaEeS2xZ5v

— GONGSHOW® (@GongshowGear) April 23, 2017
Don Cherry spent his Saturday attending the Red Wedding. pic.twitter.com/Jr9z6XhULH

— Ian McLaren (@iancmclaren) April 23, 2017
April 23, 2017
is Don Cherry wearing a crime scene? pic.twitter.com/HHmVL2JAUR

— Blinn Manuel Miranda (@NHLBlinn) April 23, 2017
Something horrible has happened pic.twitter.com/MwLfJkc2tr

— Marc Dumont (@MarcPDumont) April 23, 2017
April 23, 2017
Dexter Cherry pic.twitter.com/SphkaAC5AR

— Matty Go Sens (@Gerv_Rebrand) April 23, 2017
@Gerv_Rebrand LOL!!!! pic.twitter.com/nDlzGgHoL3

— Mike (@Large_Soda) April 23, 2017
April 23, 2017
And now a photo of Don Cherry after he murdered the English language. pic.twitter.com/dXeX0QmlUM

— randy turner (@randyturner15) April 23, 2017
The Rangers went on to beat the Canadiens 3-1 and qualified for the second round of play-offs after winning the first round series 4-2.
They will meet the Ottawa Senators in the second round of the Eastern Conference play-offs, with the remaining play-offs schedule yet to be announced.