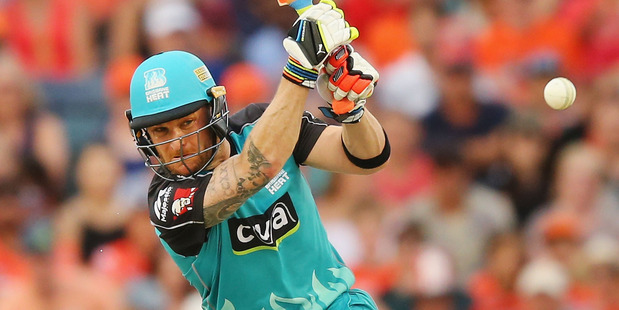 Former Black Caps skipper Brendon McCullum has been widely lauded for his aggressive captaincy style over the years, but many are now questioning the decisions that saw his Brisbane Heat ousted from the Australian BBL semi-final last night.
McCullum has been one of the standout performers of this year's competition and, during the semi loss to Sydney Sixers, was named by former Aussie captain and commentator Ricky Ponting in his all-star line-up.
But McCullum's decision to bowl seamer Ben Cutting in the tie-breaking "Super Over" against Sydney Sixers badly back-fired, when Moises Henriques plundered 22 runs off six balls.
Horrible super over from Cutting but field placement from the skipper cost the Heat the game, and not the first time in the series #BBL06

— Adam Curley (@AdamCurleyMedia) January 25, 2017
Terrible decision to bowl Cutting. One of worst death bowlers in #bbl06
McCullum can reprieve Heat tho. Stand and deliver 6 times

— John Townsend (@johnt237) January 25, 2017
Story of Ben Cutting's career - last over of the innings he bowled was excellent, the super over was excrement #BBL06 #BBLSemis

— paul suttor (@paulsuttor) January 25, 2017
Ever the punter, McCullum has always been an unorthodox leader, and backs himself and team-mates to put pedal to the metal at all times.
Earlier, he surprisingly tapped part-timer Joe Burns to open the bowling with is modest medium-pace side-armers, a gamble that resulted in the dismissal of Sixers batsman Nic Pattinson in the first over.
I like Nic Maddinson, but geeez it'd be tough to put a baggy green cap back on anyone bowled by Joe Burns' noddles #BBL06 #smashemsixers

— Nick McGrath (@nickmcgrath4) January 25, 2017
Brendon McCullum is a genius. #BBL06

— Travis Meyn (@travismeyn) January 25, 2017
Cutting produced a tight final over of just six runs to force the tie, but could not reproduce that form in the decider.
He and McCullum, who had top-scored the Heat with 46 runs during their dig, could then only muster 15 runs in the Heat's Super Over response.