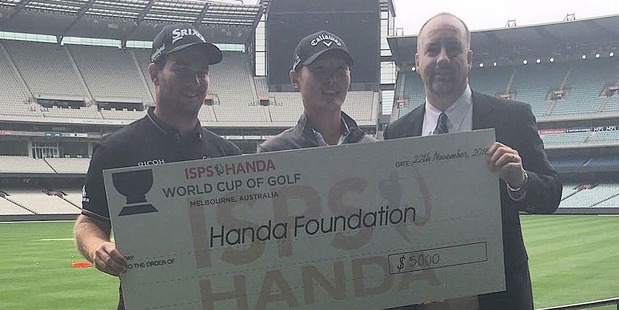 Kiwi golfers Danny Lee and Ryan Fox have kicked off their World Cup of Golf campaign with a win in the charity shootout, just a day before the big tournament is about to start.
The duo won a chipping competition which saw them lob balls from the stands of the MCG, into buckets in the middle of the ground.
Despite being labelled a casual warm up, they managed to raise money for selected charities and will relish being back together - their first time since competing next to one another at the Rio Olympics.
Teeing off at the @MCG! Did you know @ryanfoxgolfer grandfather played cricket for New Zealand #WorldCupofGolf @WorldCupGolf pic.twitter.com/WssxS4R6lI

— PGA of Australia (@PGAofAustralia) November 22, 2016
Well done #TeamNZL and #TeamIND for winning the charity shoot out at the @MCG @WorldCupGolf awesome place to raise money for or charities! pic.twitter.com/hpQONAPHVF

— ISPS Handa (@ISPSGolf) November 22, 2016
Danny Lee had another reason to smile as well - getting to eat his first meat pie in eight years.
Clearly it meant a lot to him and it is unknown why the No. 1 male Kiwi golfer hadn't been able to get his hands on one. Fox tweeted an image of the episode with the hashtag "couldntjusthave1".
Finally @dannygolf72 gets his mince pie. I think it was worth the 8 year wait @WorldCupGolf @nzgolf #happyman #couldntjusthave1 pic.twitter.com/2xpwh8bxuG

— Ryan Fox (@ryanfoxgolfer) November 22, 2016
New Zealand has been runner-up twice at the World Cup tournament: Michael Campbell and David Smail in Japan in 2001, and Bob Charles and Walter Godfrey in Mexico in 1967.
Lee and Fox will be hoping their combined efforts will help propel them into the golfing spotlight.