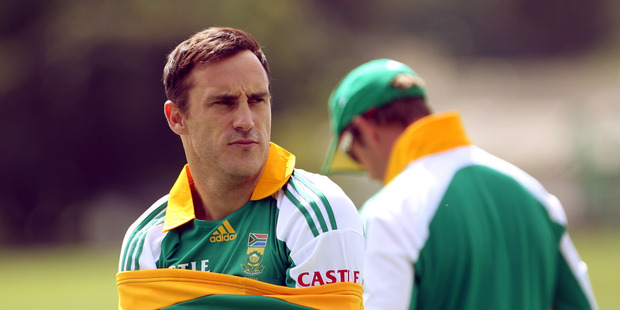 South Africa captain Faf du Plessis has been charged with ball tampering during the second Test against Australia in Hobart, the International Cricket Council (ICC) said on Friday.
The ICC announced on Wednesday that it would review footage of the match that appeared to show du Plessis applying saliva to the ball with a lolly in his mouth.
"The charge relates to changing the condition of the ball in breach of Law 42.3 and has been laid by the ICC Chief Executive David Richardson who has exercised his right to do so," the ICC said in a statement.
"Du Plessis has pleaded not guilty to the charge ... Details of the hearing will be announced in due course," the governing body added.
If proven guilty, du Plessis could be handed a maximum fine of 100 per cent match fee, two suspension points and four demerit points. Two suspension points equates to a ban of one Test match.
Earlier in the day, Hashim Amla was accompanied at a media briefing by the entire South African squad and support staff to "show solidarity" with their captain. Amla said du Plessis has done "absolutely nothing wrong".
"The reason everybody is here is to stand together and to show solidarity to what has been something we actually thought was a joke. It's not April," Amla said, hours before the ICC charge was announced.
"But the allegations against Faf were really, for us, a ridiculous thing and as a team we are standing strong. For us it is basically a joke. The boys are here, standing strong."
Amla's stance was widely-supported by a range of cricket greats from around the world, including Australian legend Matthew Hayden.
Ball tampering OMG please. What about this 'Watch the ball' the rest will look after itself!!!

— Matthew Hayden AM (@HaydosTweets) November 18, 2016
Beaten with the bat.
Beaten with the ball.
Beaten in the field.
Mentally stronger.

Here's a idea, Let's blame it on a lollipop #soft

— Dale Steyn (@DaleSteyn62) November 18, 2016
Just so we clear, I'm not blaming the aussies, but I won't let a fantastic series win be tarnished by some lollipop fabrication. 3-0 mission

— Dale Steyn (@DaleSteyn62) November 18, 2016
I cannot believe the puppet show the @ICC has become, ball tampering allegations are a joke.

— Graeme Smith (@GraemeSmith49) November 18, 2016
@GraemeSmith49 Will be banning players using sun cream next in case it gets on the ball!!

— Alec Stewart (@StewieCricket) November 18, 2016
Aussies must be really allergic to mints..its like their kryptonite !

— Ashley Giles (@Gilo) November 18, 2016
What an absolute joke this ball tampering shambles in Aussie @faf1307

— Kyle Mills (@kylemills79) November 18, 2016
The 32-year-old du Plessis, the stand-in captain for the injured AB de Villiers has previously been in hot water for ball tampering.
In 2013, he was fined 50 per cent of his match fee for ball tampering in the second Test against Pakistan.
He was caught on camera rubbing the ball against a zip on his pocket on the third day of the match in Dubai, leading umpires Ian Gould and Rod Tucker to penalise South Africa five runs and change the ball. Du Plessis did not contest the charge.
South Africa's innings and 80-run win over Australia in Hobart sealed the three-match Test series with a game in hand.