Rio 2016 has come and gone.
Its conclusion came just as quickly as the Games themselves, with more drama and emotion than anticipated.
As they finish up today, we take a look back at all the highs and lows of this year's Games.
Favourite Kiwi Moment
There were so many. Teenage pole vaulter Eliza McCartney's sparkling personality shines out of the TV screen and for one so young to win an Olympic bronze...amazing. At the other end of the scale...Nick Willis defied what in 1500m terms is old age to win bronze with a perfectly calculated run. Tactics still matter. But nothing matched the drama of New Zealand's agonising men's hockey quarterfinal defeat to Germany, who scored two goals in the final minute. Amazing sport, even if the result went the "wrong" way. The nation briefly agonised over a hockey defeat like it was the All Blacks.
Most Unfortunate Kiwi Moment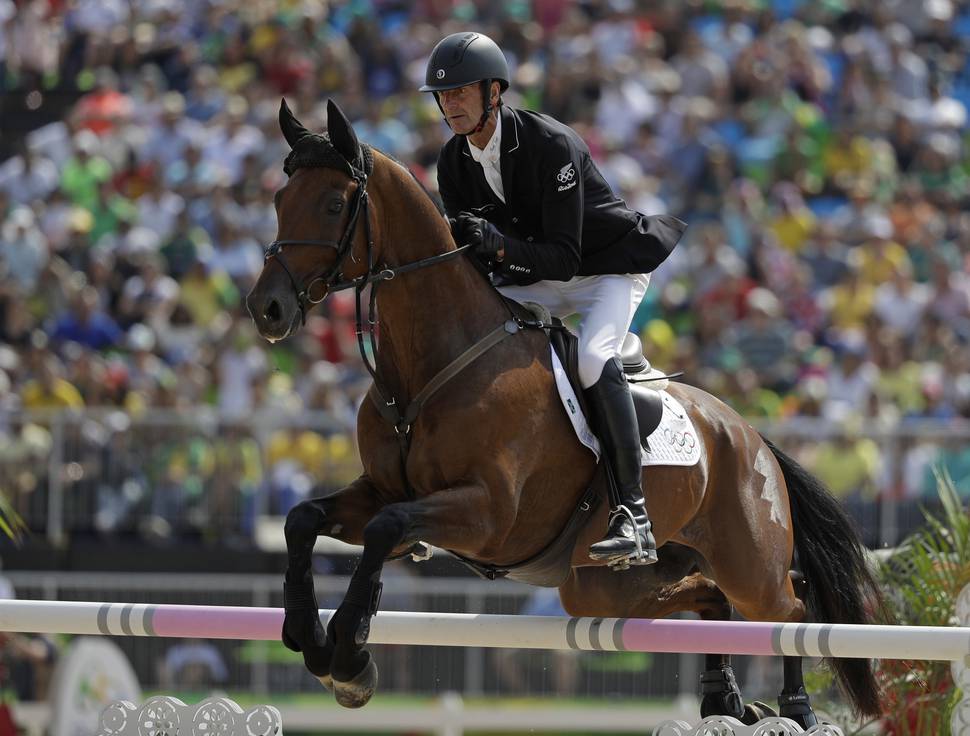 There we were, sitting on gold and drooling over Sir Mark Todd's amazing equestrian career, and down went the rails...one, two, three, four. His horse Leonidas II had knocked over just one rail during the previous two years of competition. That's sport for you.
Best Finish
Usain Bolt kissing the finish line after his ninth and final Olympic gold - in nine final races - was a perfect ending. He ran the anchor leg of the 4x100-meter relay for Jamaica, won emphatically to become the third athlete ever with nine golds in track and field, and insists that this will be the end of his Olympic career.
"Nothing left to prove," Bolt said.
He's right.
"I am the greatest," he added.
Right again.
Cold War
The U.S. dominated the medal count, a rare romp in a non-boycotted games. Great Britain were next. Swimmer Michael Phelps won six medals, five of them gold, to increase his career haul to 23 Olympic titles and 28 medals overall. Ledecky and Biles each won five medals, Biles gets to carry the U.S. flag into the closing ceremony, and U.S. shooter Kim Rhode has now won a medal in six consecutive Olympiads - and might not be done, either. New Zealand's 18 medals was this country's best total haul.
Sportsmanship
In the women's 5,000-meter heat, Abbey D'Agostino of the U.S. helped New Zealand's Nikki Hamblin up after a crash, encouraging her to finish the race. D'Agostino tore a knee ligament in the fall and obviously couldn't finish. "That girl is the Olympic spirit right there," Hamblin said of D'Agostino. Hamblin said: "I've never met her before...isn't that just so amazing?"
Worst Sportsmanship
The way gymnast Gabby Douglas was vilified by her fellow American citizens, just because she didn't put her hand over her heart and smile during a medal ceremony. Very sick and twisted patriotism.
Biggest Embarrassment (1)
Ryan Lochte is a 12-time Olympic medallist, and the odds that he'll have a chance to ever swim for a 13th are as murky as some of the pools were in these Rio Games. Lochte's story that a robber put a gun to his head quickly unrivalled, his three teammates who were companions that night all were left to answer legal questions after he scurried home, and more repercussions from the U.S. Olympic Committee are likely coming.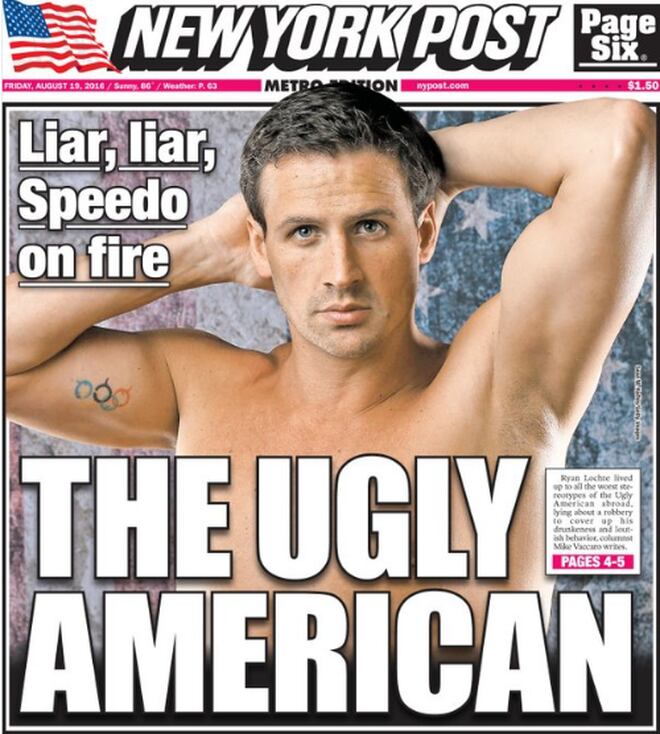 "It's traumatic to be out late with your friends in a foreign country - with a language barrier," read part of the apology that Lochte released on social media Friday.
Maybe so, but it bears noting that language barrier or no language barrier, the incident occurred after Lochte left a night out at ... Club France. So it would seem like not all foreign atmospheres struck him as traumatic before now.
Biggest Embarrassment (2)
Irish IOC member Patrick Hickey was arrested while having a bath during a dawn raid related to ticket touting. Hickey, 71, was filmed naked by police before being detained in his bathrobe. He stepped down from his IOC positions, after first calling for medical assistance. The rest of us have become so immune to sports corruption cases that we can't be bothered feeling sick anymore.
Falling at the first hurdle
No, not the New Zealand Sevens team (remember that unbelievable loss to Japan). No, this refers to Haiti's 110m hurdler Jeffrey Julmis whose displays of pre-race confidence turned to custard as he ploughed through the first hurdle and was left sprawled on the track, in maybe the Games' funniest moment.
Breakout Star
We asked. You voted, reports AP.
Narrowing the list of potential candidates to four - Simone Manuel (four swimming medals), Joseph Schooling (beat Phelps for a gold in the pool), Monica Puig (whose tennis gold was Puerto Rico's first Olympic title in any sport) and Ibtihaj Muhammad (the barrier-breaking fencing medallist). AP asked its Twitter followers to have a say in deciding this one.
The response was overwhelming, and one-sided: Puig is the breakout star of these games.
Reduced to tears many times after draping the Puerto Rican flag across her body after the gold-medal match, Puig beat two of the world's best five players to win the title.
"To do this for my country is everything," Puig said.
The Olympic ideal, personified.
Top Kiwi Quote
Press question of Lydia Ko: "When's the last time you played for New Zealand?" Ko: "I always play for New Zealand."
Strange But True
First hole in one. World number one Ko's ace as she claimed the silver medal was the first of her career, including practice.
Best Foot Stomp (Also Candidate For Best Video)
Two Mongolian wrestling coaches tore their clothes in protest off after their wrestler Ganzorigiin Mandakhnaran lost the bronze medal match to Uzbekistan's Ikhtiyor Navruzov.
Best Coach
Due respect to Mike Krzyzewski, Geno Auriemma, Martha Karolyi and the Japanese wrestling coach who found himself getting body-slammed twice in celebration by women's gold medallist Risako Kawai, this one goes to Ans Botha - the 74-year-old great-grandmother who guided South Africa's Wayde Van Niekerk to Olympic gold and a world record in the men's 400.
Her style is simple. When the smile goes away and the voice gets stern, it's time to get serious. In other words, sort of like most great-grandmothers.
"She's an amazing woman," Van Niekerk said. "Her work ... I think it speaks for itself."
Best Couple
Decathlon champion Ashton Eaton of the U.S. and his wife, heptathlon bronze medallist Brianne Thiesen-Eaton of Canada, would be a very easy selection here.
But what Kate Richardson-Walsh and Helen Richardson-Walsh did was even more rare.
They're married, and played for the same gold-medal winning British women's field hockey team. In a games that had more openly gay athletes than ever before, theirs was a moment that surely resonated with many around the world who don't know the first thing about field hockey.
"To win an Olympic medal is special. To win an Olympic medal with your wife standing next to you ... we will cherish this for the rest of our lives," Kate Richardson-Walsh said.
Hope-less Star
When the U.S. women's soccer team was ousted by Sweden (and former U.S. coach Pia Sundhage), American goalkeeper Hope Solo raised eyebrows with her assessment of the match.
But her former coach had the perfect rebuttal.
"We lost to a bunch of cowards," Solo said.
"It's OK to be cowards if you win," Sundhage countered.
Biggest Off-Field Star
A tough category, especially after Leslie Jones of "Saturday Night Live" parlayed hilarious Twitter commentary into an invite to Rio. Matthew McConaughey hung out with everyone from the U.S. women's rugby team to Phelps, and Gisele Bundchen's catwalk in the opening ceremony was one not to forget.
But the pick here is Zac Efron, who flew to Rio just to surprise the U.S. women's gymnastics team - particularly Biles, who doesn't hide her enormous crush on the actor.
He also saw Bolt and the U.S. men's basketball team, but let's face it, no one is going to ignore invites to hang with Biles and the U.S. gymnasts right now.
Weirdest Thing
A stray bullet landed in the equestrian press tent. It had been launched by a gang member from a favela, aimed at a police blimp. A second bullet was found in the stables. The organisers reckoned it arrived at "low energy".
Top Spin
No one might have been better at their job during the Olympics than Mario Andrada, the spokesman for the Rio Games organising committee.
When something went wrong it was his job to explain it - and do so with the world watching and listening. He and International Olympic Committee spokesman Mark Adams held daily hour long briefings with reporters, and Andrada offered up some quote gems. So we'll go ahead and award his head-scratching statements their own set of medals.
The bronze: "Numbers mislead," he said, as part of an answer about ticket sales and poor crowds.
The silver: "Let's give these kids a break," he said of 32-year-old Ryan Lochte and his U.S. swimming teammates, after their incident.
The gold: "Chemistry is not an exact science," he said, talking about why the water at a diving pool went from blue to green.
Best Brazilian Moment
Stand up and cheer, City of God.
One of your own is now an Olympic champion.
Slums, or favelas, are everywhere in Rio - none more infamous than the City of God, which rose to fame through the 2002 movie of the same name that depicted life in the slum. Rafaela Silva grew up there, and she won gold in judo at these Rio Games.
Now that's a made-for-Hollywood story.
And with that, it's time to start thinking about PyeongChang and the 2018 Winter Games. When the cauldron in Rio goes out later today, those games will be only 536 days away.