In a five-part series, the Herald is profiling New Zealand Olympians going for gold at Rio 2016. The films feature exclusive access to top athletes and get to the heart of what makes an Olympian. They will be released every Friday throughout July. The second of the series profiles women's Rugby Sevens skipper Sarah Goss.
They call each other sisters.
The 12 women selected in the first Olympic sevens team are a multi-cultural mix representing the changing face of New Zealand rugby: A mum, a medical student, a teenager, former netballers, young prodigies and stalwarts of the women's game.
They're the final 12 in the first intake of the Go4Gold initiative, a recruitment drive started in 2012 to identify talented young sportswomen who could become sevens Olympians.
Their leader is the unassuming Sarah Goss.
Thoughtful about how she presents herself but warm and engaging, Goss is in the mould of many New Zealand rugby captains - understated and more concerned with her actions than her words.
But the position Goss finds herself in is a little more unusual than some other leaders who've sprung to prominence.
At just 23, she is a young captain of a national team with a profile that
is about to soar.
For three days in August, the women's sevens team will come under scrutiny they're yet to experience as the country thirsts for medals, preferably gold.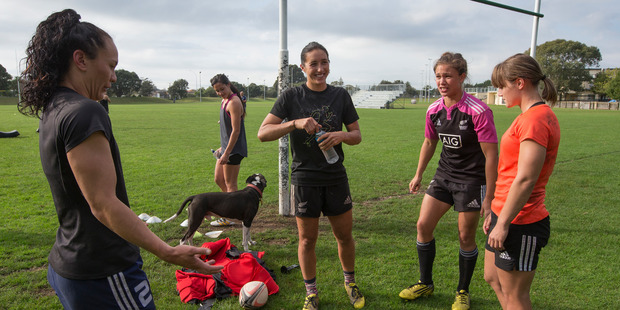 Goss is negotiating the pressure of not only leading a team towards a historic first and the expectation of being from the world's top rugby nation but also the balance between team and management.
"That's probably been the most difficult thing," Goss says. "I'm trying to please my sisters and also the management. Whether it annoys people or makes them happy, I always have to think what's best for the team when I'm making my decisions."
It's a challenge that hasn't been without difficulty. For the first few years of the World Rugby women's sevens series, New Zealand could do no wrong, winning three consecutive titles and securing automatic qualification for Rio 18 months ago.
But the 2015-16 season has seen Australia surpass New Zealand and surge to Olympic favouritism. New Zealand finished runners-up to Australia in this season's series, reaching two of six finals but failing to win a title. But if Goss is concerned by Australia's rise, she's not showing it.
"They've always been there or thereabouts. Our performance last year was awesome and we qualified very early in our series, whereas this year, we've had a lot of injuries, so we've been able to rotate our team a lot. We are progressing really well and we don't want to peak too soon."
Goss is now domiciled with many of her teammates in Mt Maunganui but she's originally from Manawatu and her work ethic is born out of a rural upbringing.
The family has a sheep and beef farm near Wanganui, and mum Ronnie is a champion wool handler. Goss isn't too bad with the shears herself, once winning a New Zealand junior title.
The farm and shearing background is one Goss believes has stood her in good stead for life as a professional athlete.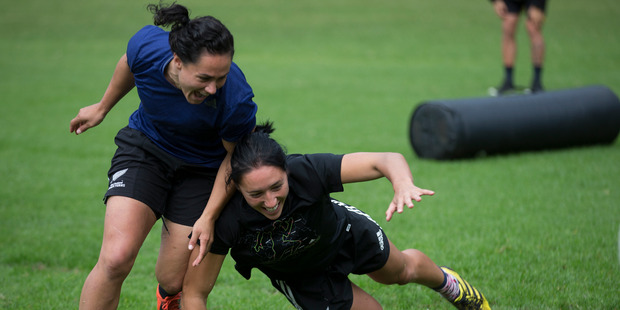 "During the summer, me and my sister used to go out in a shearing gang to get some extra money to pay for uni. So you were getting up at 5.30am, shearing for 8-10 hours and then pretty much going to bed. You got used to not just fitness, but work ethic. The more you worked, the more money you got, so it drove you to work harder and keep going."
A hard-running forward with solid defence, Goss is a product of the successful Feilding High School girls' rugby programme, which has so far seen seven players reach international level.
She almost stumbled into it, initially going to rugby training to improve her fitness for hockey.
"Little did I know I'd be dragged into going to games but my love for rugby grew from there," Goss said.
As well as skills on the field, Feilding High and Manawatu rep teams were where the foundations for leadership were laid and the lessons about developing a team culture
were learned.
"People say I've been a natural leader all my life, but I like showing that through my actions, by working hard, and knowing if I can do that, the team is going to perform better."
She references her "sisters" often. Goss may be the public face but everything is about the team and the legacy they're trying to create. Goss and the squad are acutely aware of what winning a medal could do for women's rugby.
"Back in 2012, we were talked to about being pioneers to a legacy and that's something we have to engrave in us. For us, it's actually creating a legacy that someone else wants to come into ... a young girl at school can aspire to be a New Zealand woman's sevens player and go to the Olympics."
For 12 players from the class of 2012, that aspiration is about to become reality. Sarah Goss may lead them but the sisters are right behind her.