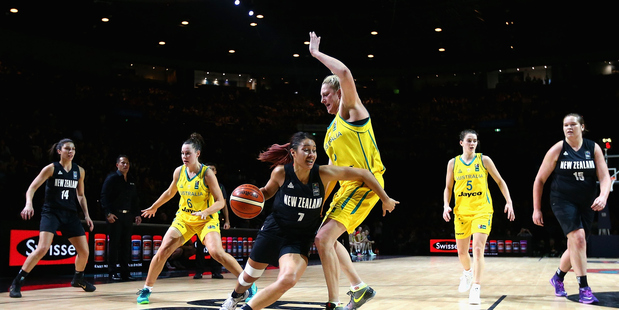 The Tall Ferns women's basketball team have confirmed their schedule for a final shot at qualifying for the 2016 Rio Olympic Games and will leave no stone unturned in an intensive five-week campaign to prepare for FIBA Qualifier in France in mid-June.

Head Coach Kennedy Kereama has announced the 23 players invited to trial in Auckland in early May, all striving to make a 14 strong playing roster. These 14 players will travel to China and Europe, before a final 12 is named to play in the FIBA Olympic Qualifying Tournament in France in mid-June.

Kereama says the programme that has been put together and has no doubt it will prepare the team to be in great shape physically and mentally for a final shot at Rio.

"We have a good group of players that have made themselves available this year, many of whom have just come off great professional or collegiate seasons. The depth in our women's programme is at an all-time high and we have a lot of players knocking on the door and forcing themselves into the selection conversation."

The Tall Ferns will assemble alongside 12 other nations at the women's qualifying tournament in France: Spain, France, Belarus, Turkey (Europe); Cuba, Argentina, Venezuela (America's); Cameroon, Nigeria (Africa), China, South Korea (Asia); and New Zealand (Oceania). Only the top five will earn a place in Rio.

New Zealand has been drawn with heavyweights France (4 in the world) and Cuba (13) in their pool, with the top two teams from each pool of three qualifying for the quarterfinals.
New Zealand's ranking of 22 in the world has them clearly ranked as underdogs, but Kereama is backing his team to mix it with the best in France.

"Our build up for the Olympic Qualifier is great. We are playing a number of good teams - in fact nine of the ten are ranked above us, so we will be pushed during every game. We need the best competition possible and the tougher the games the better the preparation for our Olympic Qualification Series. The tournament is going to be cut throat and we need to be playing our best basketball when we arrive in France."

Kereama says competition for places in the touring party of 14 will be intense, let alone the even tougher call to name a final 12 for the Qualifier in France. He says this has come about largely through an increase in activity for the women's programme combined with the emergence of a strong generation of players that are making headlines in the US College system and in professional leagues.

"The quality and standard of our players is getting better and better and leagues such as Women's Basketball Championship (WBC), American College and pro leagues (WNBL and Euro leagues) are helping foster and further develop our best talent. Many countries are starting to recognize the talent that we are producing and more of our players are creating those playing opportunities for themselves further away from home."

The players invited to trial for the Tall Ferns in Auckland on May 7/8 are:
Stella Beck, Small Forward, (Saint Mary's College of California), Brooke Blaire, Point Guard, (Idaho State University), Jessica Bygate, Stretch Forward, (Adelaide Lightning), Micaela Cocks, Point Guard, (Townsville Fire), Shea Crotty, Point Guard, (Canterbury Wildcats), Penina Davidson, Center, (University of California), Antonia Edmondson, Shooting Guard, (Perth Lynx), Deena Franklin, Small Forward, (Harbour Breeze), Samara Gallaher, Shooting Guard, (Hume City Broncos), Jillian Harmon, Stretch Forward, (Townsville Fire), Jordan Hunter, Point Guard, (Auckland Counties Manukau Lady Hawks), Breana Jones, Shooting Guard, (University of Hawaii), Krystal Leger-Walker, Point Guard, (Waikato Basketball Council), Hailey Moala (nee Purcell), Shooting Guard, (Auckland Counties Manukau Lady Hawks), Katelin Noyer, Center, (Waitakere Lady Rangers), Chevannah Paalvast, Shooting Guard, (Townsfille Fire), Kalani Purcell, Small Forward, (Brigham Young University), Erin Rooney, Shooting Guard, (Cote D'Opale Basket Calais), Terai Sadler, Small Forward, (Canterbury Wildcats), Josephine Stockill, Center, (Colgate University), Dru Toleafoa, Small Forward, (Santa Clara University), Jessica Tuki, Stretch Forward, (Waikato Wizards), Lisa Wallbutton, Stretch Forward, (Willetton Tigers)