The New Zealand Cricket awards have been held at the Viaduct Events Centre to celebrate the country's best performances since the World Cup.

Over 400 guests attended and below is a timeline of the evening with NZME on the blue carpet and during the function as the cricket fraternity reflect on their finest achievements.

9.45pm
Kane Williamson, unsurprisingly, named cricketer of the year and awarded the Sir Richard Hadlee medal.
Co-host and former Black Cap Mark Richardson asks Williamson whether originally he thought he would become a limited overs player?
"Didn't feel I had to prove anyone wrong or right on that."
Had to adapt with a style demonstrating more finesse?
"These guys are hitting the ball over the rope with bats I can't even lift. I have to find another way."
On his expected elevation to the captaincy:
"I'm fortunate to be leading the T20 side at this stage. I think you need to be authentic as a leader. You can't help who you learn from, and in Brendon we've had a fantastic leader."
9.38pm
Mark Richardson asks him to admit there was no single when they batted together on debut.
McCullum disagrees.
Richardson apologies for not taking the run, and getting McCullum run out.
McCullum on leadership:
"There has been a whole group of leaders who have bought into where we wanted to go."
Got soul back?
"Loved every experience with these guys. Doing it with a group of mates. Everything a cricketer could wish for in the backyard. If it doesn't work for you, don't throw your toys."
Getting plaudits from Sir Viv Richards?
"He's the king. Oh, actually, Kane's king. Viv is God."
9.31pm
Brendon McCullum given a standing ovation at the awards. NZC chairman Stuart Heal pays tribute.
Delivers a "huge thank you" to Ellissa and family for "sharing Brendon with us all".
"To never miss a test, can take man out of Otago but can't take Otago out of the man. You are Dunedin's legend."
"This team found its own identity through you. This team played in your style. This team influenced rival teams for the better and that's the greatest legacy you can leave."
9.18pm
Kane Williamson named test player of the year.
Why do your bats look 150 years old?
"I do practice a lot and if you get a good bat you want to hold onto it."
Is cricket an obsession with you?
"No, I don't think so (crowd guffaws)."
"The culture of the side needs to take credit for the success of the team. Focus doesn't need to be up getting awards."
No.1 test batsman in world, haven't got 300 yet?
"Milestones probably nicer for other people. Want to contribute as much as you can, but want to see the team perform well."
People want to bat like you?
"I want to bat like Brendon (crowd chuckles)."
9.12pm
Martin Guptill named both ODI and T20 player of the year after a sensational year in which he made the most ODI runs in the world (1489) during 2015.
Mark Richardson asks him what it's like to hit a six. Crowd chortles.
"This season I've been on some good wickets and been able to score freely."
"Test cricket a work-in-progress? Just whack it?" asks Richardson.
"That has been mentioned over the last couple of days," Guptill replies.
9.06pm
Auckland chairman and Cornwall club stalwart, Rex Smith presented with the Bert Sutcliffe medal for outstanding services to cricket.
9.02pm
New test caps winners over the year have them presented by Brendon McCullum: Matt Henry, Luke Ronchi, Mitchell Santner and Henry Nicholls. B-J Watling gets his, having not had it done previously in a public forum.
8.58pm
Women's cricket great stays on stage to present award to Sophie Devine for fastest T20 half-century v India last year.
"Was a little bit of a blur, but a special knock looking back on it. Just went about it my own way running down the wicket and swinging."
8.53pm
White Ferns captain Suzie Bates, who scored a century in the final Rose Bowl ODI at Mt Maunganui this week, caps off another prolific year of run-scoring by being named the international women's player of the year.
8.49pm
Sport and recreation minister Dr Jonathan Coleman comes to the stage to talk about the health of cricket. Speaks about record number of sell-out days and recruitment numbers post-World Cup. Describes McCullum as "inspirational to New Zealanders in all walks of life".
8.46pm
A tribute to the late NZ cricketer Mike Shrimpton is made as the former coach of the 2000 White Ferns World Cup winners. Highlights footage is played.
8.44pm
Trent Boult wins Winsor Cup for first-class bowling.
8.42pm
Kane Williamson wins Redpath Cup for first-class batting. Glorious footage ensues with even the Channel Nine commentary team delivering phrases like "batting masterclass" and "the classiest hunded you'll ever see".
8.39pm
Canterbury's Amy Satterthwaite judged domestic women's player of the year, successfully making the transition from medium pace to offspin.
8.30pm
The live broadcast begins. Victorious footage sequence underway.
8.25pm
The first award recipients are announced before the live Sky Television broadcast. The winners stand and get a round of applause.
NZC's annual development and services award winners:
Best female initiative: Cricket Wellington
Club of the year: Cornwall Cricket Club
New Zealand Post Community Cricket development officer of the year: Sam Ward
Volunteer of the year: Bryan Haggitt
New Zealand Post outstanding contribution to cricket: Mark Benefield
Secondary school boys' First XI Cup young cricketer of the year: Rachin Ravindra
Sir Jack Newman award: Peter Burke
8.20pm
The mood music fades. The steak and chicken have proved a hit, judging by the clean plates. NZME has sampled both and can attest to this.
-------
7.35pm
NZC chief executive David White completes his introduction to guests.
White pays tribute to New Zealand captain Brendon McCullum and pays tribute to how he has held his dignity during some trying times during his tenure.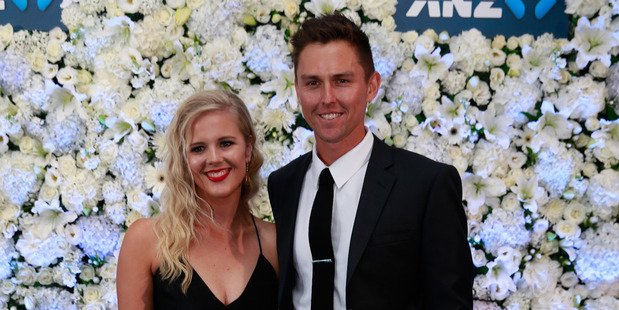 He says there will always be a place for him to return to NZC, once he has taken some time out from the international game.
White talks the audience through NZC's efforts to build on the Black Caps success at the World Cup last season and how they are doing that through various means, like boosts in playing numbers.
He also acknowledges the achievement of the 2000 World Cup-winning White Ferns who are in attendance as part of a reunion tonight.
-------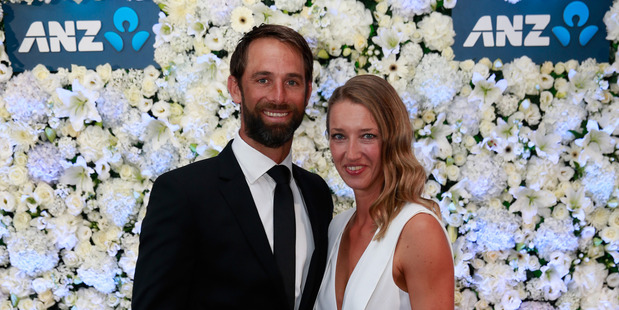 7.15pm
The cricket fraternity meander towards the main dining hall at the Viaduct Events Centre as dinner is prepared to be served.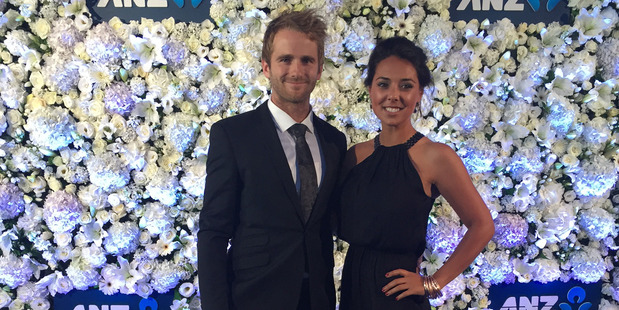 Brendon McCullum, who is understandably in demand, completes his interview with NZME and dashes a quick single down the blue carpet with wife Ellissa to enter the banquet hall.
Elsewhere...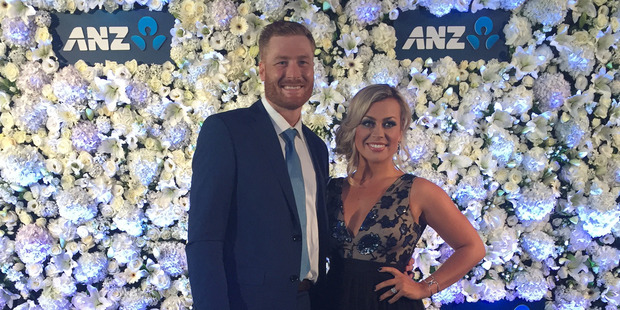 Ross Taylor says he's a touch concerned that he's ended up wearing the same tie as Corey Anderson. He claims he bought his first and, to prove it, it matches his belt.
Nathan McCullum has just flown in from the Pakistan Super League for the occasion. When asked what he hopes is on the menu, he replies "beer". He looks set for a big innings.
Kane Williamson, as expected, is a picture of decorum. He has commended everyone on scrubbing up for an annual function he thoroughly enjoys, celebrating the camaraderie of cricket.
The clinking of glasses, general chat cacophony and pictures in front of the ANZ flowerwall are over. The background music fades and MC Laura McGoldrick introduces the agenda for the evening.