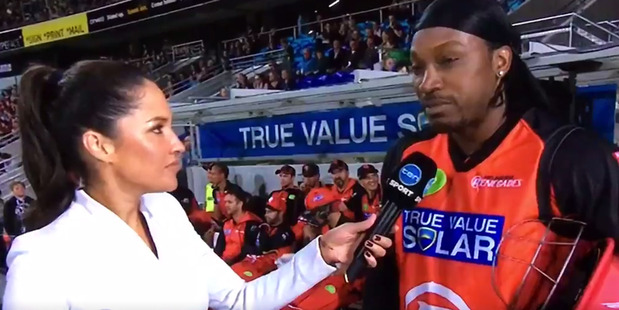 Chris Gayle sent Twitter into meltdown after the T20 gun for hire's comments directed at Big Bash commentator Mel McLaughlin divided social media.
McLaughlin's fellow BBL commentator and former England all-rounder 'Freddy' Flintoff was one of the first to react on Twitter to Gayle's sideline serenade.
"I wanted to come and have an interview with you as well,' Gayle said on live television to McLaughlin," Gayle said after being dismissed while playing for the Renegades.
"That's the reason why I'm here, just to see your eyes for the first time. It's nice so ...
"Hopefully we can win this game and have a drink after. Don't blush baby."
Punters hurriedly joined the chorus slamming Gayle's "chauvinistic" behaviour.
Well played @Mel_Mclaughlin !! Big fan of @henrygayle but made himself look a bit of a chop there @tensporttv #bbl05

— andrew flintoff (@flintoff11) January 4, 2016
Well done @networkten and @MarkHoward03 following up on gayles pathetic interview with @Mel_Mclaughlin #notfunny #21stcentury #classactmel

— Patrick Dangerfield (@dangerfield35) January 4, 2016
Chris #Gayle picks up first nomination for Bad Oyster of the Year 2016. What a disgrace. #BBL05 #BadOyster16

— Oysters Kilpatrick (@OystersKilp) January 4, 2016
@henrygayle brushed on national TV ???????????? You don't get them much more professional than @Mel_Mclaughlin well handled chick! #BBL05 @BBL

— HAYLEY WESTOBY (@HayleyWestoby1) January 4, 2016
Ugh. Not one bit amusing Chris Gayle. Well handled @Mel_Mclaughlin. #BBL05

— Carly Adno (@CarlyW226) January 4, 2016
@CarlyW226 @Mel_Mclaughlin what's more depressing, Gayle's comments or the fact people will defend them?

— Tom Smithies (@SmithiesTele) January 4, 2016
But Aussie footballer Tim Cahill and a number of sports stars and journalists were a little more forgiving.
I'm absolutely outraged that everyone's so absolutely outraged by @henrygayle being a bit cheeky to a female TV reporter. #BBL05

— Piers Morgan (@piersmorgan) January 4, 2016
On fire tonight brother @henrygayle ??????

— Tim Cahill (@Tim_Cahill) January 4, 2016
#Gayle interview: time, place, context not great but hardly offensive in itself, surely. #BBL5

— ron reed (@reedrw) January 4, 2016
A bit of fun by @henrygayle everybody relax - no one hurt, injured or dead!

— Tex Walker (@texwalker13) January 4, 2016