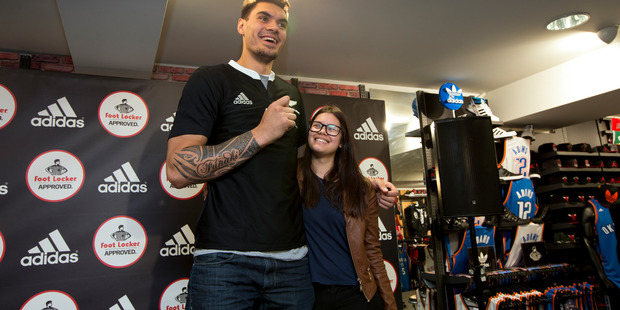 Hundreds of fans lined up along Auckland's Queen St today to farewell Kiwi NBA star Steven Adams before he heads back to the US for his second season with the Oklahoma City Thunder.
The 7 foot tall 21-year-old's first game of the 2014-15 season is on October 29 and he says the thing he will miss the most about being away from home is the food.
Although he once found a pie in Colorado, he said it was "missing the love."
Crowds of adoring fans formed a line about 50m long down central Auckland's main drag this afternoon to see Adams at the Foot Locker store.
Pakuranga college pupil and avid basketball fan Lavon Tuimana, 15, was waiting to get her ball signed.
"I'm star struck, he was the main reason I wanted to play basketball," she said.
Ms Tuimana said being half Tongan like Adams and his sister, Olympic gold medallist shot putter Valerie Adams, the players were an inspiration.
"Basketball isn't really popular in New Zealand, but he's showing Kiwi kids that anything could happen."
Ms Tuimana plays in her school's under 17 basketball team and said her coach had told them to follow Adams.
"He inspires our whole team," she said.
Rotorua-born Adams said it was strange to be recognised on the street in his home country.
He'd tried wearing a hoodie and hunching himself over to disguise his height, but people still recognised him.
"I've learned to like it," he said.
His family still treated him the same when he was back home though: "Nothing's changed. I still go back home to my family and they treat me like crap."