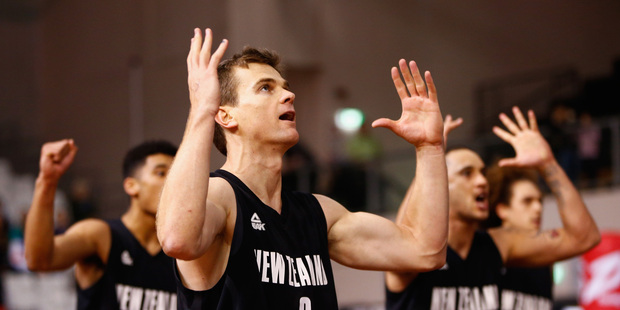 Turkey 76
Tall Blacks 73
The Tall Blacks have blown an opportunity to record one of their biggest wins at an international tournament.
New Zealand imploded in its Basketball World Cup opener against Turkey, the 2010 runners-up, giving up an 11 point lead with less than five minutes remaining to fall to a 76-73 defeat at the Bizkaia Arena in Bilbao, Spain. Turkey finished the game on a 15-1 run, while the Tall Blacks missed their last nine shots from the field.
Tall Blacks coach Nenad Vucinic says they froze in the last five minutes and simply couldn't put the ball in the basket.
"We outplayed them, out-rebounded them, but the fact we didn't finish the game is going to stick with us for a long time after the tournament. We will try to erase it right now," Vucinic said.
The coach has taken responsibility for the loss after picking up a decisive technical foul with 3:42 still remaining in the fourth quarter, when New Zealand led by six points. Vucinic was judged to be too vociferous in appealing an offensive foul on Tall Blacks guard Corey Webster. Turkey made the resulting free throws and then a lay-up from the next possession.
"I saw what I saw. I didn't think it was a foul, but I didn't think I really did enough to warrant a technical foul. There was [sic] no bad words or anything like that," he said.
"I told the guys after that maybe if I didn't get that technical foul, it might have been a different result."
New Zealand had led for the majority of the game and held a 38-28 halftime advantage. Turkey momentarily went ahead late in the third quarter before the Tall Blacks reclaimed the initiative and pushed out to a 72-61 lead with the clock ticking under five minutes.
Corey Webster had a breakout game for the Tall Blacks in his first appearance at a World Cup, leading all scorers with 22 points off the bench, while Rob Loe scored 11 and pulled down six rebounds. But Webster and veteran New Zealand guard Kirk Penney both missed late three point shots to level the scores.
"I thought both of them were good actually, but then they rimmed out. We've got to start knocking those down [as] when the game is on the line that's what wins you those games," Webster said.
Turkey coach Ergin Ataman feels fortunate to have escaped with a win.
"Every time in basketball you need luck. I think for 34 minutes New Zealand had the luck[and] the last six we had it and we won," Ataman said.
"I think that this [New Zealand's] basketball will be very dangerous for all teams in our group, also for the United States. I am very curious how they will defend this pick and pop offence of New Zealand,"
The Tall Blacks have little over 18 hours to regroup before they take the court against the Dominican Republic in their second Group C game tonight.
The Dominicans lost 72-62 to Ukraine in the opening game of the tournament.